FASHION fox
is a British fashion blog run by women's fashion insiders based in London.
With hot fashion tips, styling, fashion and beauty advice Fashion Fox takes you on an adventure in fashion.
This phrase does seem to haunt a few trend items, what's happened to us? Is it the rain, is it the incessant role call of political idiocy, the grinding procession of double, triple and maybe even quadruple fiscal dips? Are we just too tired to suffer anymore, so much so that we seek not indulgences but a little comfort and order? Amidst this madness we all seek a little oasis of sanity; and ironically we can find this place of sanity within the usually frivolous world of accessories. What better thing to have is a bag that can help organise us make life a little simpler, a bag that takes us back to simpler times when our greatest personal demand was that we showed up to class armed with our books and pencil case. Now I know it is true this blog veers towards the luxury side of things, but liking the finer things in life doesn't mean you're a gullible idiot. What I have always liked about real luxury, is that is has a certain durability, either in its cut and style or and hopefully and in its construction. Something that has a level of sensible-ness, sturdiness, yet is also quite frivolous, has a sense of humour, makes me smile and want to skip along the street singing a song, now that's a bit of a style gem (skipping singing? Miss Volkmann, that's not so stylish, I know, and I do not care).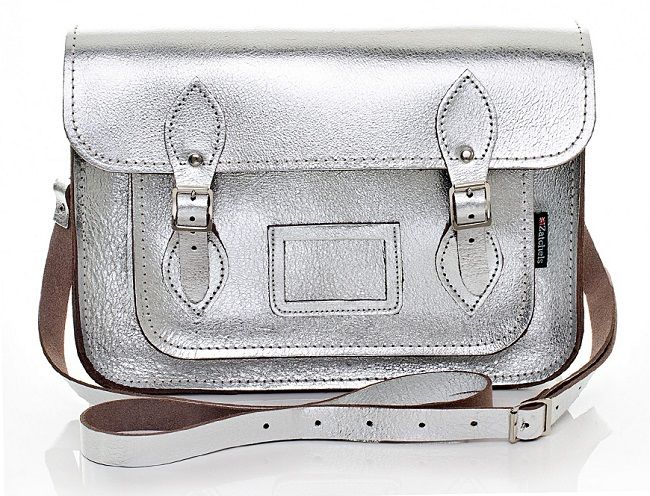 Well this seasons must have moment of girlish fashion joy comes bag shaped. Satchel to be precise, the Candy Collection of their classic school satchel styled shoulder bags from Zatchels afford you glittering metallic pop glamour at a the fairly reasonable price of £119, in glittering craquelleure gold, green, blue and the obscenely girly pink, it's a bag with a song in its little empty leather heart. These bags have been hand crafted in Leicestershire by a small leather manufacturing firm, so it is a truly British product, a mix of traditional craft skills which mean a well made product with fairly paid and hopefully happy workers and lower carbon footprint if you're buying in the UK. I'm dithering between the gold and the green, the perfect ironic partner to the plethora of florals around. Yes metallic are "oh so a la mode" and I do love shiny things, but the sad truth is what really sealed the love deal with me was the little cardholder at the front, hurrah an easy place to keep my Oyster card I beamed to myself. Is it only a London girl thinks that way about a handbag?
comments powered by

Disqus
x
Email Post
You can email the Post below to a friend. Simply fill in the form and click send.
Post name: