FASHION fox
is a British fashion blog run by women's fashion insiders based in London.
With hot fashion tips, styling, fashion and beauty advice Fashion Fox takes you on an adventure in fashion.
The retail market on-line is a constantly evolving shopping mall for fashionistas looking not only to find a bargain but to find unique and exciting pieces for their wardrobe. For shoppers looking to set trends rather than follow them its worth exploring new platforms such as Wowcracy for unusual items like this month's featured Baguette Bag. But what is Wowcracy and how on earth do you use it and buy from it?
Fashion Fox interviews one of Wowcracy's founders Davide Tronzano to get to grips with this fascinating pre-order fashion online destination:
So what is it?
DT: "Wowcracy.com is a new and unique website providing the discerning fashion devotee direct access to the latest fashion collections made by top international designers before they hit the market. You can pre-order new fashion items with a click. Funds are transacted only when the collection hits the funding goal. The new item are produced and you will receive the purchase at your doorstep."
Et Voila so far so good, its like the crowd-funding model except its not all about the altruism, the feel good factor comes in a very real solid form…eventually be patient my dear Fashion Foxes this is not fast fashion.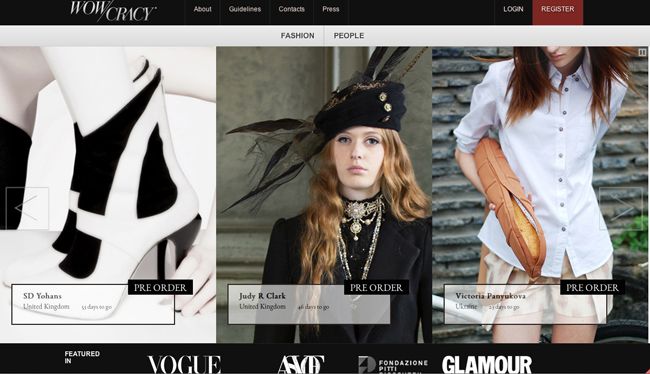 Who are Wowcracy?
DT:"Wowcracy was created by four Italian entrepreneurs: Lucas, Andrea, Marco, Davide. Andrea and Marco know are good friends and co-workers. They met Lucas during a business networking event and started to share ideas together. Davide first met Andrea through the World Economic Forum Global Shapers Community, then joined the group. It's a strong team. Very committed."
What's the angle why aren't you just another shop?
DT:"We promote designers, also in collaboration with Vogue Talents. Designers and their collection are selected for quality standards." Well this is an Italian team after all so quality is a given.
So is this a more personal experience of shopping?
DT:"Consumers can interact with our designers directly on Wowcracy. You can write a comment for the collection. The designer will respond to you! Designers can interact with the fashion community. Especially, they can promote their self and the collection with exclusive content such as video, images, and descriptions."
check out our next post about the Baguette Bag which is on special offer for Fashion Fox readers
comments powered by

Disqus
x
Email Post
You can email the Post below to a friend. Simply fill in the form and click send.
Post name: