FASHION fox
is a British fashion blog run by women's fashion insiders based in London.
With hot fashion tips, styling, fashion and beauty advice Fashion Fox takes you on an adventure in fashion.
"Can I wear them home please", I've not said that in a while. Usually shoe shopping involves much walking up and down and consideration in front of various mirrors. In a shop its easy to make yourself believe that a heel slightly lower than the Shard is in fact a comfort shoe and then carrying the box home in a crisp new bag only to realise much later that they are in fact just projections of my vanity and agonising, I am being turned onto flat shoes, one brand at a time, and the flat shoe of the week is a Flossy its not just that they're really cute, but their soles smell like those fruit scented erasers we had as kids and this is how Miss H and I found ourselves, smelling shoes in Shoreditch and falling in love with plimsolls.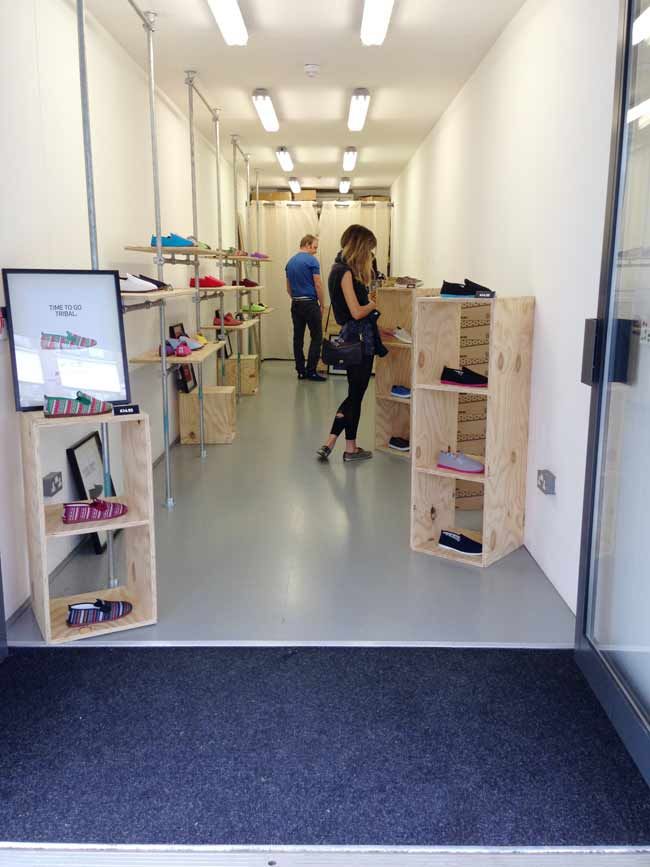 I'd hiked over Shoreditch's cobbled streets in my "comfy" heels in the heat and the humidity that London is currently cradled in to Flossy's pop up shop in Box Park. I'd been dithering about what colour, what style, for days, Flossy's classic plimosolls come in 18 plain colours, then there are the polka dots, the stripes, the oh so en trend Aztec patterns. I love red shoes, oh the red ones were lovely, but the denim was cooler. Decision made, heels back on. Well
I get as far as putting one on and then said "Can I wear them home?" Yes I do look better in shorts wearing heels, but hang it, I'm outing myself as a woman who loves comfortable shoes. Is the tide turning, are heels completely passé? Flossy's plimsolls are made in Rioja in Spain and designed for a life in the sun relaxing with really good wine. Ay la vida suave, ah que bien.
Ibiza clubbers loved them, fishermen relax in them, artists adore them, and they have spread all over the world and now conquering oh so cool Shoreditch. They're one of those things I'd called an affordable luxury, yep they seem cheap, but you'll end up buying a whole palette of colours.
Anyway I found myself back at the pop up shop talking with Luke on of the owners of Flossy with my dear friend Miss H after she'd admired my Flossys. Now she's dithering like I did, between the traditional slip-ons and the new "super crease range", they're distressed lace ups, and I'm feeling pangs of envy, "get the crease ones", I say, living vicariously through my girlfriend. Miss H reaches down to take them off, but nope, she can't do it, she wants to wear these home too.
Flossy's cute little pop up store is open till Sunday 4th August 6pm at Boxpark Shoreditch your feet will love you, your friends will turn green and I'm sorry I've just turned you from a heel lover into a Flossy Collector, addict is too unkind a word. If you can't bear to leave the house though this weekend you can head over to www.flossyplimsolls.co.uk
I may not quite give up the heels, but I think I know what I'll be carrying in my bag to slip into when the heels get too much.
Check out our interview with Aroe about Bomb the Box beginning on Sunday at Box Park.
comments powered by

Disqus
x
Email Post
You can email the Post below to a friend. Simply fill in the form and click send.
Post name: