FASHION fox
is a British fashion blog run by women's fashion insiders based in London.
With hot fashion tips, styling, fashion and beauty advice Fashion Fox takes you on an adventure in fashion.
Casually dressed in a peach t-shirt, skinny jeans and loafers, slight of build and softly spoken Dominique Young Unique doesn't strike you as a girl who has rapped her way out of the projects of Tampa Bay, but this is a girl who battled on the streets and basket ball courts to become not only a music star but is set to make her mark as a fashion icon. Her track "Earthquake" in collaboration with DJ Fresh features on the soundtrack of the much anticipated Kick Ass 2 movie, is released today, in the meantime she is in studios working on her new album and working with a design house to become their "face of", but is keeping the identity under wraps something tells the Fox that this news is going to be big. Dominique took time out from recording her new album to talk to Fashion Fox about her music, her life and her love of River Island and Prada.

"Robles Park is so rough", but its where Dominique first started battling. "I never forget where I came from, but I never wanted to live like that, and I knew I had to get out. I'm never ashamed of what I went through, like living in a car with my mom because it made me stronger." "Everybody shows me respect, they're really excited for me and when I have time I try to hang out with my old friends. People need friends and its good to have friends." The music scene in Tampa is really good, there's a whole bunch of underground Hip Hop and rap its not really pop." "My inspirations are Rihanna, Jay-Z, Nina Gomez, Beyonce and Tina Turner, my mother loved Betty White, she loved old school music like Queen Latifah."
Getting her music out of the projects, was a stroke of luck, she met a London based producer who was working with a band in Tampa, and then she flew to London in 2009 to record her first album and hasn't looked back. "When 'Show my ass' came out," everyone was loving that track, and people are really starting to love it and I'm looking and thinking "is this real".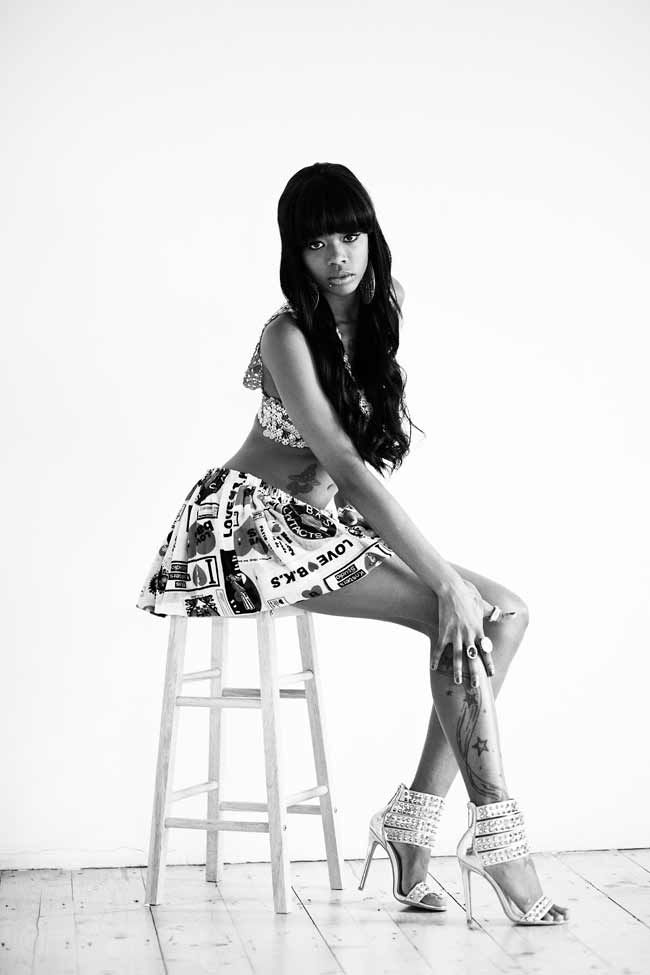 She's a natural artist, recording and writing are one and the same, "its so natural, I just pick it up on the beat, if it get's hard for me I just go for a walk or go to dinner." Her spontaneous creativity comes from times when she used to beat the boys in 3 point shoot out basket ball in Tampa, and then victory would come down to verbal battling, "I used to stand in the circle and freestyle in front of the boys, I just wanted to be heard they'd pay me not attention, they'd be like "I hate that girl, what's she rapping about."
She's been celebrated in ID magazine and head hunted to model in Katie Eary's Kanye West fashion show. "That was the most nervous thing every, I was so at ease with performing, if you perform everyone is with you and I'm walking about there looking so serious and Kanye West was there looking at me, so I was like "Oh OK","
"I really want to work with Gaga, I think it would be a great collaboration, I love her she makes great music, she has a great attitude, I loved the song she did with Beyonce and the video was just epic."

The many faces of DYU, centre at Katie Eary's Kanye West Runway show
"I've been into fashion, I try different things, different colours, right now I'm loving River Island, and the Rihanna Collection, I have a lot of that, I met her and she gave me some clothes." "My style is quite young, I really love colours, if I'm feeling good I wear bright colours, if I'm calm I wear colours, I love peach, my whole room is peach, " she's wearing peach, "I'm so happy right now, I've told my model management, Milk Management that if they paint their offices peach I'll tweet about." "I love heels, I love them and I be so tall, taller than my boyfriend, I love Prada, Miuccia Prada invited me to the fashion shows and she gave me some stuff, I love her." More modelling is coming up, "it's a bit secret", she smiles.
Earthquake is available today on Itunes, and her album will be released later this year.
comments powered by

Disqus
x
Email Post
You can email the Post below to a friend. Simply fill in the form and click send.
Post name: