FASHION fox
is a British fashion blog run by women's fashion insiders based in London.
With hot fashion tips, styling, fashion and beauty advice Fashion Fox takes you on an adventure in fashion.
Burberry's show is the hottest ticket in town and although I am not a grandee enough to be invited to the tent I was invited to the live streaming and a champagne reception. Christopher Bailey has become Britain's answer to Miuccia Prada, other designers may be more experimental and daring but where Christopher Bailey leads others follow. Major trends emerged quite quickly during this autumn showing of fashion week then Bailey cut through the with the palette and textures that are even now being copied by far eastern factories in readiness for next spring.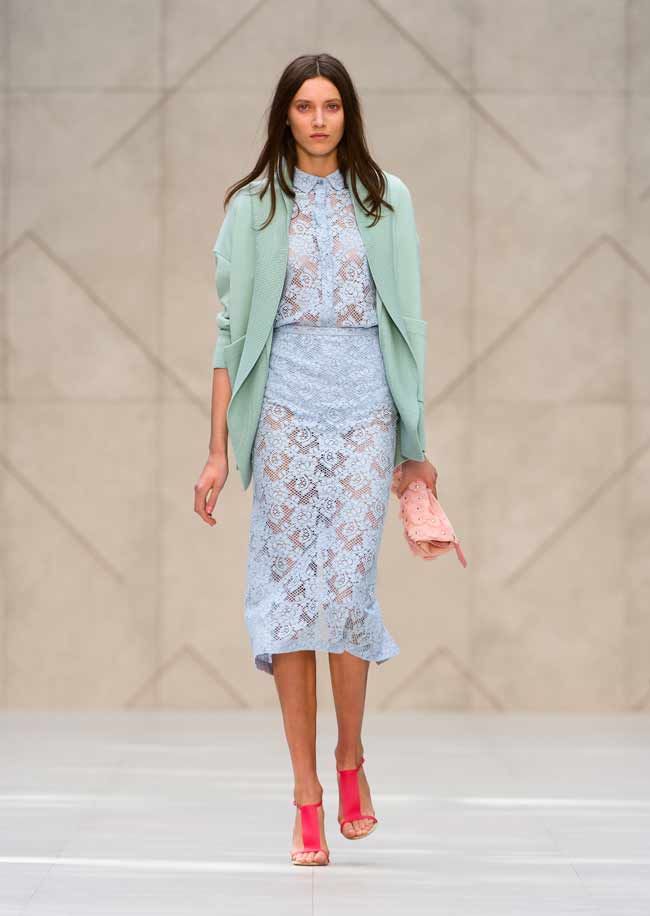 Lace of course was a key trend for this last summer but the laces and textures that Christopher Bailey has conjured takes lace into a whole new dimension form sturdier cotton almost medieval patterns to the super sheer whisps of transparent pastels in dresses and separates with large girdle like knickers to save the model's modesty. The palette moved from aqua, baby blue to lilac and next summers essential colour the dusty faded red, not quite pink, not quite red, and soft baby chick yellow. Buberry's neutrals were storm greys, teddy bear browns and soft chestnuts, and surprisingly little white.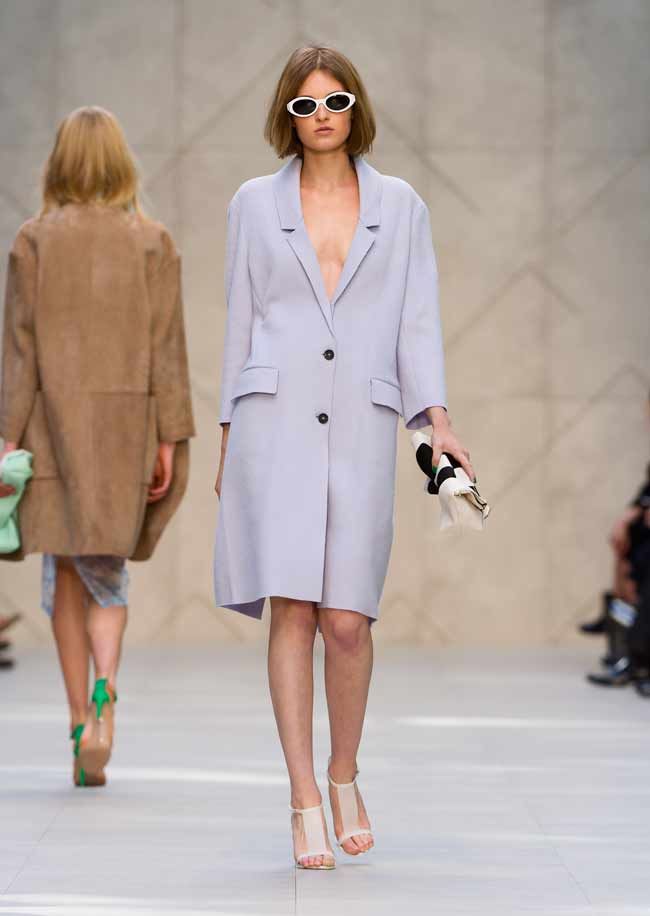 A key item for next spring is the spring/summer coat. Looking at some of these soft draped coats and coat/cardigans I am wondering do fashion designers know something that we ordinary mortals do not? After the hottest summer we have had in many years Bailey's collection speaks of hot days and cold nights. If any designer can create coats it is Burberry. Unstructured, coats in soft cashmere with drop or rounded shoulders, both the coats and knitwear is about indulgent comfort, the sort of garment you would like to be wrapped in after being soaked to the skin by heavy summer rain.
Pairing giant and polka dots and stripes will doubtless filter down to the high street but Bailey has printed his dots over broidery anglais to bring a further dimension. Textures are going to be so important, everything is about textures so exquisite or bold that it feels as if the eye can touch them and their varied surfaces call us to touch them, the soft cashmere draping cardigans summon us to cuddle. The transparent dresses some of the almost blue stocking/frump full skirts and collared jumpers talk of summers coming down from Oxford for frolics in the great gardens of even greater houses.
There's something really rather saucy, big knickers are saucy where thongs are slutty. I do fear for this part of the collection, I fear that in north land in Yorkshire and in Newcastle girls will be cheap copies of Bailey's exquisite designs and rather than coupling them with 50s style underwear, they will choose a wonderer and thong combination, just as they did the last time transparent lace dresses came into fashion, that was quite a sight around Leeds in the middle of winter and hard as I try to shake this mental image it won't leave me so I return to my safe place and focus on his glorious knitwear.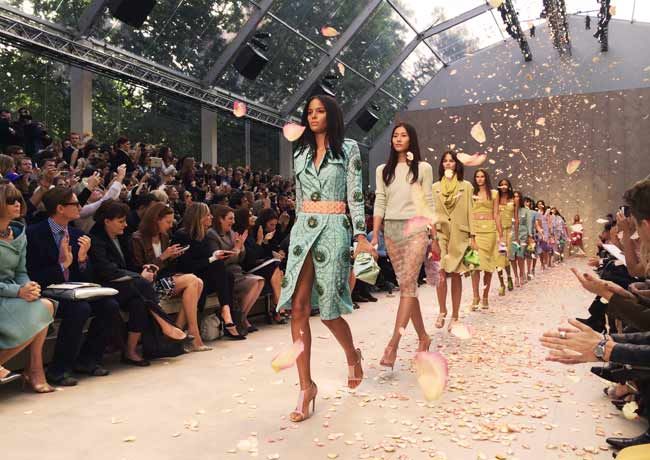 Overall there's a new femininity emerging, shirt collars are open once more, knitwear and outwear is drapy and is slung over shoulders. His pastel palette has the dusty softness of the colours of sweets in a packet of refreshers. He too has opted for this dusty red which is going be a big colour story for summer. The last part of the show with the dresses and skirts adorned with brooch like jewels showed the richer end of next summer's collection. The colours became deeper echoes of the more girly pastels with aqua deepening to jade.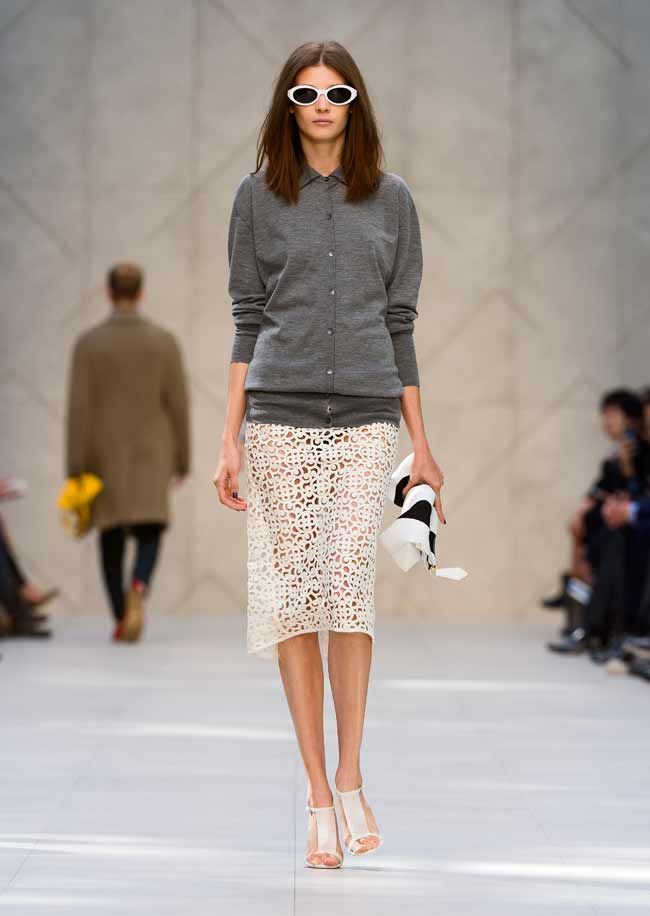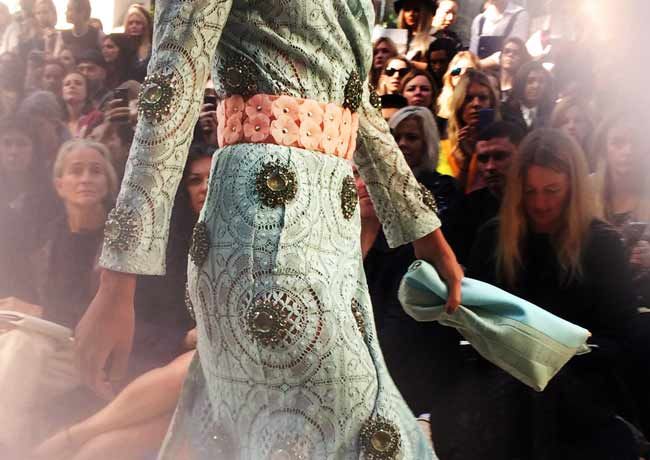 For the key palettes look to both Burberry and Mulberry shows, Burberry's palette is what I would call English Country garden with flower colours, the leaf green that is common to nearly all this summer's collections and stone and earth tones.
comments powered by

Disqus
x
Email Post
You can email the Post below to a friend. Simply fill in the form and click send.
Post name: