FASHION fox
is a British fashion blog run by women's fashion insiders based in London.
With hot fashion tips, styling, fashion and beauty advice Fashion Fox takes you on an adventure in fashion.
Pringle's fortunes have been up and down, but when they are up they are very, very up, after a few quiet years in the wings, Pringle are now strutting their stuff with what appears to be a subtle repositioning, rather than a grand thundering catwalk show they chose to present their SS14 collection with a presentation at the Connaught in Mayfair with a restrained palette of off whites and blues.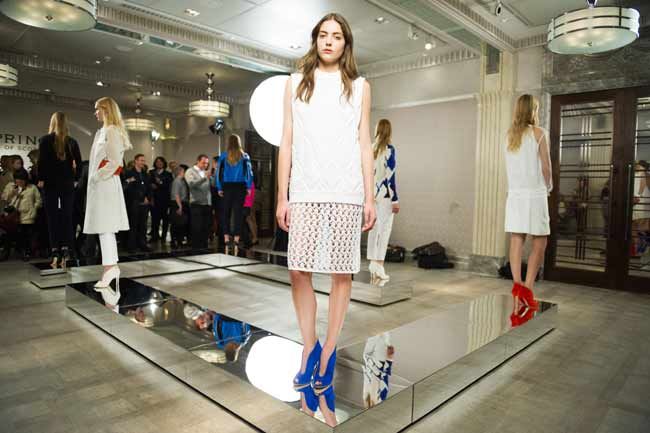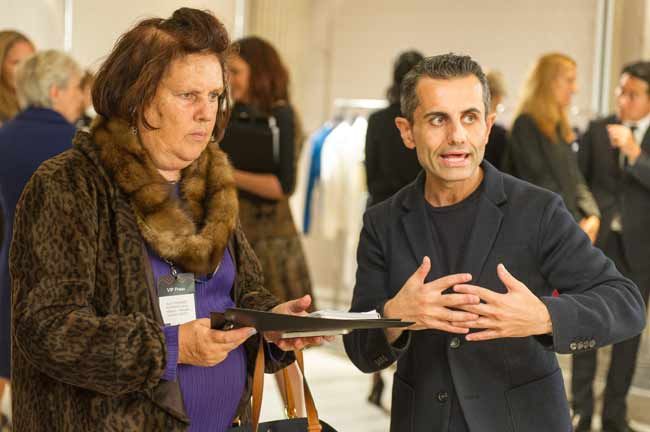 Massimo's collection comes under the scrutinising eye of Suzy Menkes
Massimo Nicosia is on his second stint at heading up the design at Pringle punctuated by a stint at Nicole Farhi. This year he seems to be on top form with an outstanding and lauded menswear collection earlier this year. Nicosia is taking the key themes of Pringle's tradition i.e. knits in the classic argyle check and deconstructing them with a very limited palette to create a very streamlined collection that challenges the cliché notions of knitwear that both the fashion press and fashion buying public choose to harbour.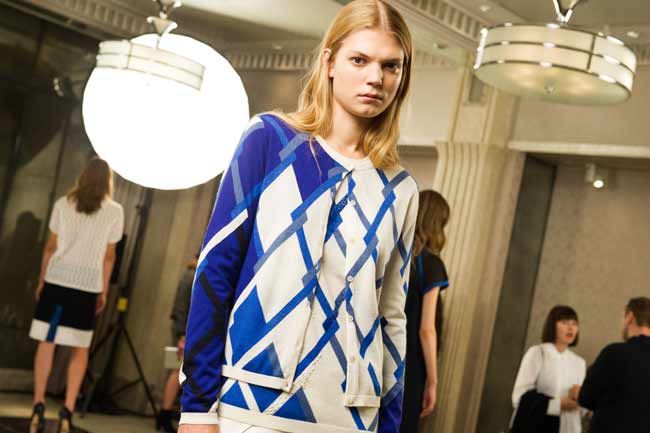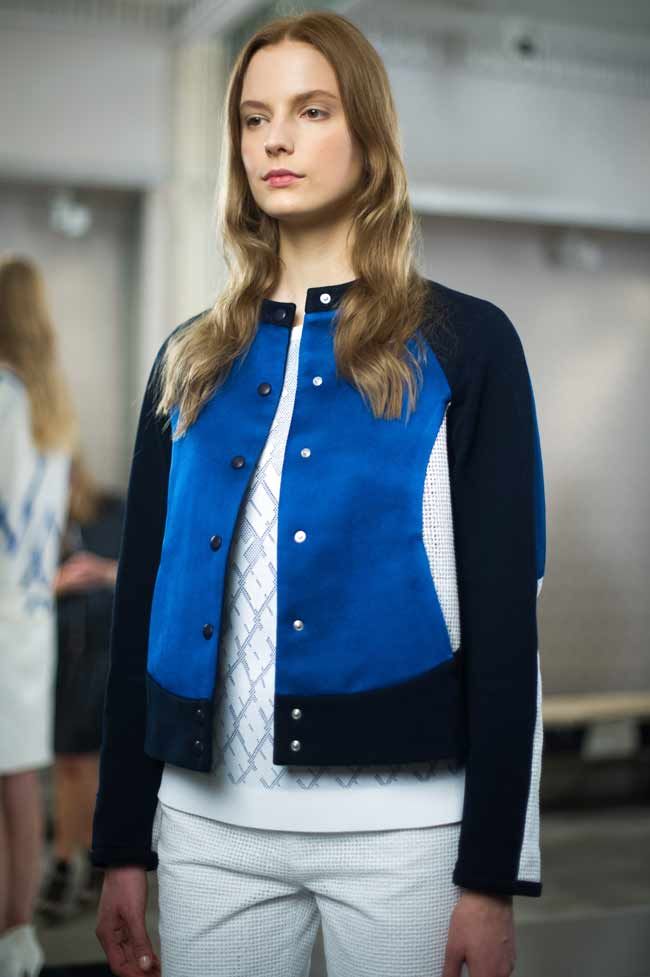 I would describe myself as a knitwear cognoscente, at Twist Magazine from the start I lauded knitwear designers from eco boutique companies such as Makepiece and the young Turks of knit from Kind to Sibling, I've toured knitting factories the world over and yarn producers, I also knit for commissions the last was for English National Opera's production The Sunken Garden. I remain on a mission to open people's eyes to knitwear and yarn. So I was rather delighted to see Pringle's presentation and the new collection which has the Italian slinky approach to knit that we have come to expect, but with a care and attention to detail and the clever deconstruction of the Pringle classic argyle check into diamond knit stitches and broken diamonds in colour.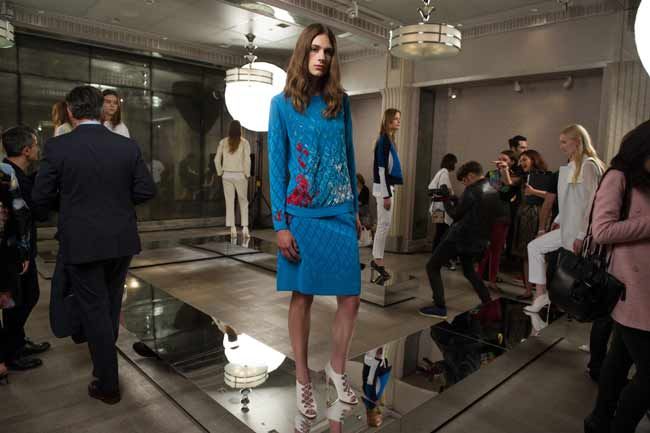 However, what saddens me and it is a bugbear of the industry is that homogenising of brands. Pringle was a cashmere specialist with a superb factory in Hawick and since the acquisition of Pringle by the Chinese S C Fang Y Son's Company and offshoring to their third party factories from feeling the schmutter I do feel that something of the heart of Pringle of Scotland has been lost…that would be the "of Scotland", certainly Pringle needed to shed its "Nick Faldo" dad in a golfing jumper image and the designs and campaigns that were modeled by Sophie Dahl went a long way to crush this, but I feel that Pringle would be advised to reconnect to their Scots roots beyond the finishing process they still use there in order to keep the "made in Scotland" label.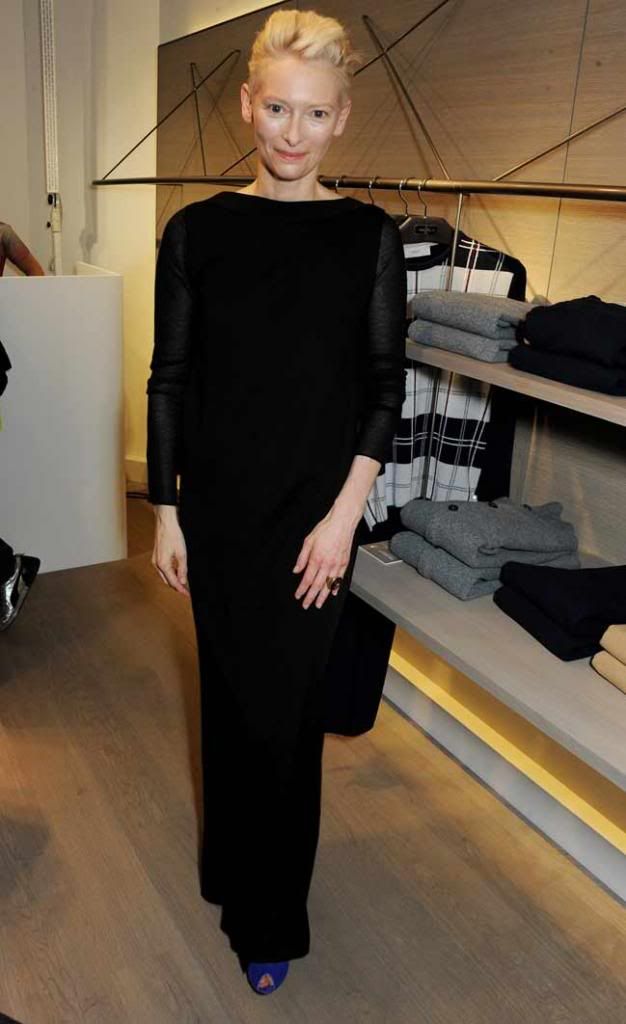 Tilda Swinton is an excellent choice of brand ambassador
The Scotland that they abandoned has changed, since 2008 Scotland has been upping its game with exciting programmes of collaborations between their Mill and leading designers such as Johnston's of Elgin working with Christopher Kane and Caerlee with Holly Fulton. With their star studded launch of their beautiful new Mount Street store on Mount Street which is fast becoming the baby brother to Bond Street maybe it is time to reconnect not to their Scots past but to the new Scottish Textiles, fashion and luxury revolution that has been evolving.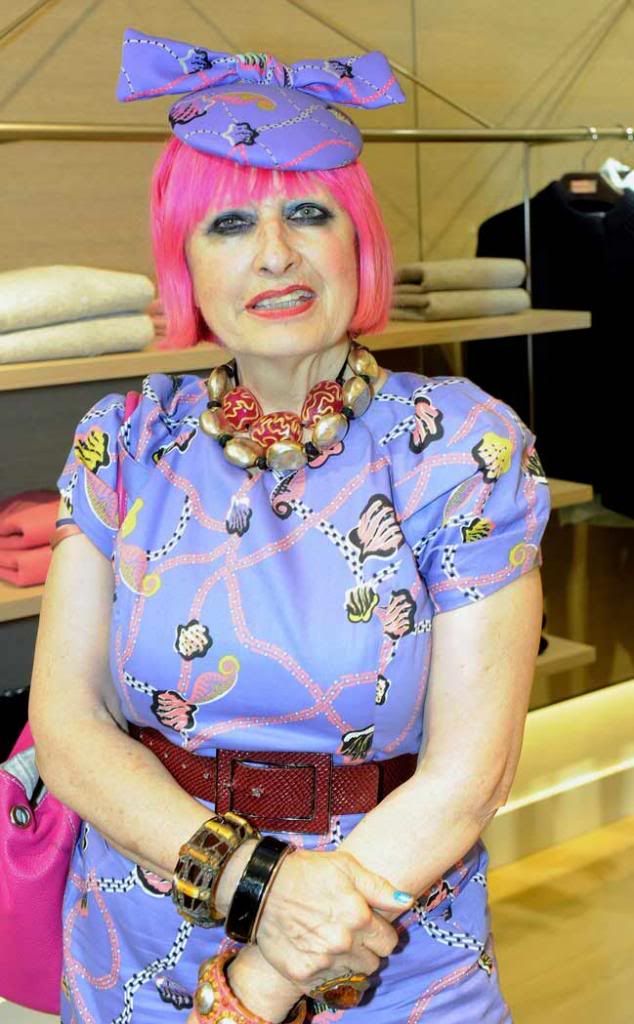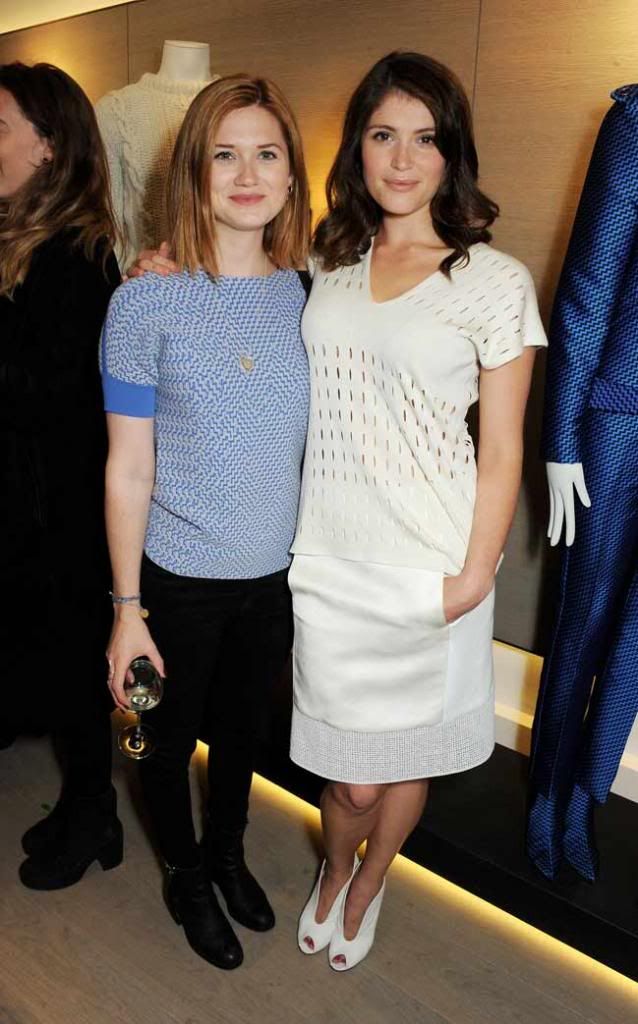 Zandra Rhodes and Gemma Atherton were two stars at the Pringle shop launch on Mount Street
The name Pringle is one that still inspires fondness and they have attracted brand ambassadors of excellent caliber with Tilda Swinton and Gemma Atherton. The new store is elegant, minimalist with steel fittings echoing the idea's of spinning and yarn. The shop was busy early on while I chatted with Zandra Rhodes mock-tails and champagne were flowing, and busy turned to rammed so it was quite a mission for myself and my companions to prize ourselves out of the throng and timed our exit with Tilda's Swinton's arrival.
comments powered by

Disqus
x
Email Post
You can email the Post below to a friend. Simply fill in the form and click send.
Post name: