FASHION fox
is a British fashion blog run by women's fashion insiders based in London.
With hot fashion tips, styling, fashion and beauty advice Fashion Fox takes you on an adventure in fashion.
The F&F Word - West Kensington F&F Boutique launches
28 October, 2013
Written by Fashion Fox in Brands
It seemed s little surreal heading to a giant Tesco Express to go to fashion Boutique launch but F&F and Tesco have been undergoing a transformation with their Yves Saint Laurent Paris show and the appointment of Anita Bolger formerly of Betty Jackson as Brand Director and Kate Crossey from M&S to head up their Womenswear design team. I'm generally steer away from "affordable fashion" the same way I avoid budget eggs and go for the free range, but F&F are stealing a march on the affordable fashion lines showing that you can do affordable fashion with style and even ethical sourcing! Even Vogue has been impressed by F&F's re-invention.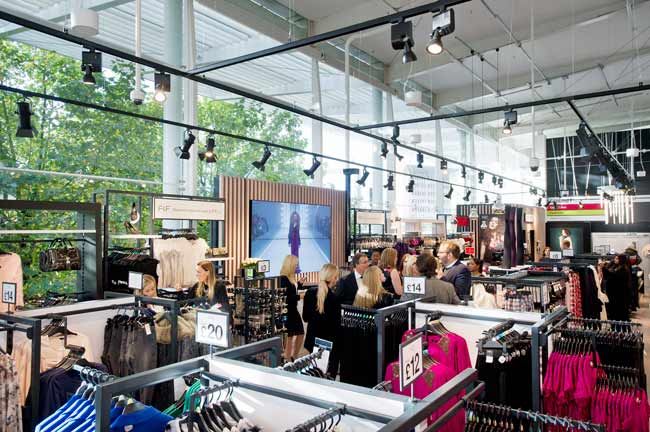 The new boutique is sited on mezzanine allowing in natural light, and the collections highlighted with spotlights. Outside the entrance way is a lounge area hovering above the Euphorium bakery. The first thing that strikes you is how well the whole shop is designed and curated. The styling makes sense without being prescriptive and runs from grunge inspired day wear to elegant Balenciaga inspired evening wear. They have a good range of denim and a very nice biker jacket. Everything is focused and well displayed. There are no groaning tables piled high with clothes, you have room to move around the shop without being ambushed by clothes from overloaded rails. The collections are probably aimed at slightly older age group, but are still fresh. Their range of cashmere embraces classic staples in black and grey, the other pieces are in key trend colours. This is a world away from the dark horror that is Primark and H&M. It was easy to pull together the looks for our photo shoot, except that a certain level of covetous greed overcame me.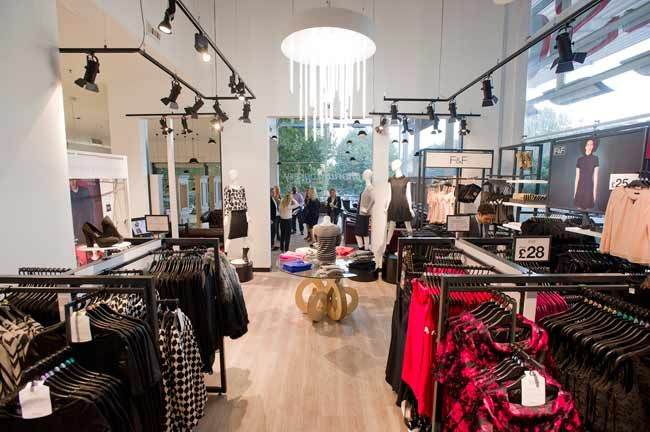 They have some hero pieces, the parkas, their biker jacket and a range of elegant day-to-night dresses. At the back you will find a great range of lingerie which includes elgant lines for those up us with small backs and big cups, which I was very impressed with in terms of the design. They carry essential basics including nightwear from the slinky to the down right cuddly, to suit the needs of real women. I stocked up on cashmere and lingerie. They have hi-tech tights too...M&S beware!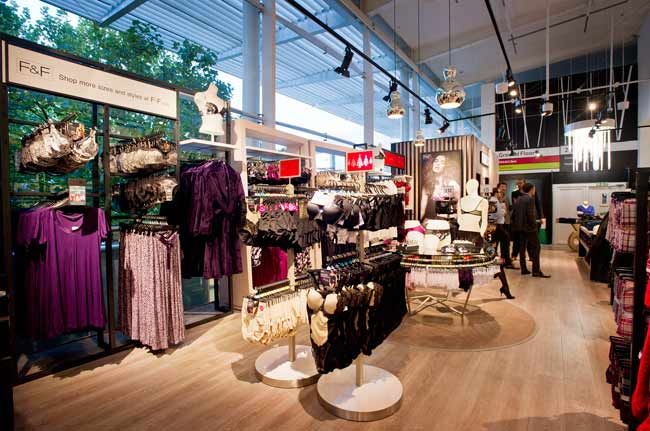 This is how shops should be. Tesco have the money to do some serious retail research and the main thrust of their new ideas for boutiques is customer service with their staff head hunted for their customer service experience. They have connected the real world shopping experience with online shopping. You can browse and if they don't have what you need in store they will search their online store and advise you, and help you with delivery options. You can browse their e-kiosk yourself or with a member of staff.
Tesco have stolen a march here on the high street with both focused style and making shopping a pleasant experience in a nice shop. What they aren't shouting about yet but should do is that they source ethically and track supply lines so you can shop with a clear conscience.
Look out for our photo-shoot next week with the styles I picked out from F&F.
comments powered by

Disqus
x
Email Post
You can email the Post below to a friend. Simply fill in the form and click send.
Post name: