FASHION fox
is a British fashion blog run by women's fashion insiders based in London.
With hot fashion tips, styling, fashion and beauty advice Fashion Fox takes you on an adventure in fashion.
Kansai Yamamoto - Fashion in Motion at the V&A
04 November, 2013
Written by Fashion Fox in Events
Before Yoji and before Commes des Garcons Kansai Yamamoto exploded onto the British fashion scene with a collection born his love of Kabuki theatre and design traditions and his love of Namban art from the Azuchi-Momyama period with its rich colours, golds and complex renditions of Samurais, Geisha and animals Kansai brought a psychedelic coloured punk attitude or Basara to his tradition before Punk had exploded on the music scene. So incredible was his first show in 1971 that the V&A immediately bought two pieces for their collection last Friday I had the pleasure and privilege to see the show at the V&A on Friday 1st November 2013 as part of their Fashion in Motion series.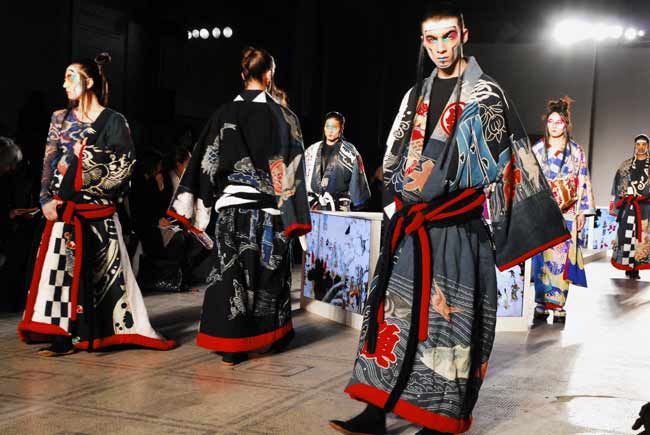 The show began subtly with models slowly walking around in beautifully printed kimonos and traditional Japanese dress, only their graphic eye make up revealing the excitement of the show that was to come. When he first showed in London he was faced with the question of how to show his work and so he turned to Kabuki, using the technique of "hikinuki" which means to taking off the outmost costume to reveal another costume facilitated by the black clad Kuroko to the Japanese eyes it would appear that costumes simply floated off the performer's body so for the first time I saw the Aladdin Sane black costume as it should be seen evolving out of a traditional gown and moving than its solid appearance in the Masayoshi Sukita photographs only to be stripped away to a printed body suit, clothes that seemed Skaterpunk ahead of that movement.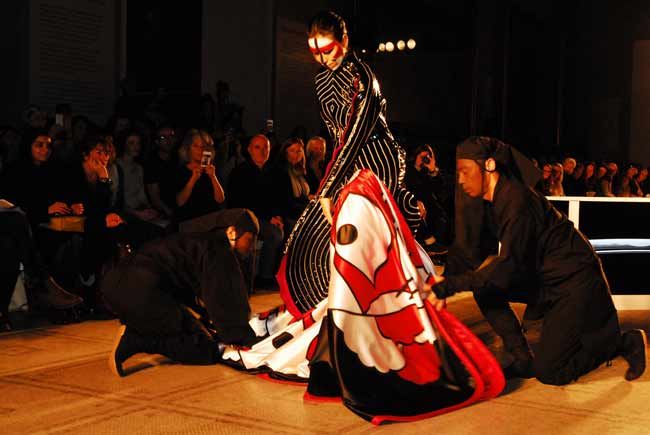 Kansai as usual was involved in the show dancing at the back. His studio assistants enrolled as stagehands an puppeteers. Models danced, busted b-boy moves, cavorted and contorted themselves against the backdrop of video sculptures. He says that: "I'm determined to express the vitality of the Japanese that intense energy, in every show I do. His excitement and energy he says comes from colour and shows a more brash and vibrant side of Japanese culture than the monochrome Zen elegance we adopted from Rei Kuwakabo and wabisabi which is a subtle irregularity that creates a gentle harmony, Kansai's work is the polar opposite, it is bright and loud, going beyond his Japanese roots to explore other cultures, of his visit to Tibet he says: It was truly a majestic journey, everything in rainbow gradation. Nothing but natural colours. As if all one's instincts had been let loose. Too excited to stop and experience the joy, I ran around the town. I knew then that if there were other countries like this I wanted to visit them all.
Kansai's success exploded in Europe with boutiques opening across the world but as he grew in fame and success he realized that fashion alone would not fulfil him and he turned to creating large scale events, his SUPER SHOWS, The first held in 1993 in Red Square, Moscow called KANSAI SUPER SHOW HELLO!! RUSSIA Muscovites went crazy for it, in an era of super scaled performance art his surely was the biggest and brightest. He says that it is the communication and exchanges that are the greatest pleasure of the SUPER SHOWs that have been his greatest pleasure including HELLO CHINA!! Which marked 40 years of normalisation of diplomatic ties with Japan and China in 2012 and he shows no sign of slowing down.
The show culminated in a carnival atmosphere with models dancing under multicoloured parasols and the Kuroko and their child puppets dancing along, Kansai strode around beaming delight across his face even though this was the third show of the day. Even the volunteers wore Kansai Kimono jackets, sweatshirts, jackets and tops, a wholly wonderful experience that will make other catwalks seem very dry by comparison. Kansai Yamamoto Vintage is available from FarFetch Global.
comments powered by

Disqus
x
Email Post
You can email the Post below to a friend. Simply fill in the form and click send.
Post name: