FASHION fox
is a British fashion blog run by women's fashion insiders based in London.
With hot fashion tips, styling, fashion and beauty advice Fashion Fox takes you on an adventure in fashion.
Paul Smith Announced as Woolmark's Global Ambassador
06 November, 2013
Written by Fashion Fox in News
Yesterday I saw a flurry of activity on Google analytics, all homing in the woollier articles on Fashion Fox, and then another of emails flurry emails about woollen fashion, knitting, sheepskin, everything that a little luxury sheep can offer then comes the jackpot, Paul Smith and Woolmark have announced that he will be the Woolmark Global Ambassador for the next two seasons and this will be supported by the advertising campaign the label will be shooting this winter, not to mention the chic and woollen delights that synonymous with Paul Smith's designs. At the heart of the collections will be Cool Wool. I can tell you now "Wool is most definitely Trending
Since the very beginning Paul Smith has always been partial to a bit of wool if you ever hear him speak he will tell the tale about trying to get his now famous stripy socks knitted. The northern soul man's style of suit is now iconic and a suit is nothing if its not got a bit of wool in it. Paul Smith says: ""I have always been a fan of natural fibres, cotton for shirts and wool for the rest, a good staple diet for a fashion designer. Of course over the years since I started, there has been lots of other new high tech fabrics that have arrived but I still tend to stick with my wool." Good lad we say!
There is a notion that its only the man made fibres that are clever and technical, capable of doing fantastic things, but as we have mentioned before on Fashion Fox, Cool Wool is probably one of the most technical and fashion desirable fibres around. Cool Wool is a "The" fabric for the internationally successful person and sometimes fashion isn't all about glitz and design its about clothes that are fit you and your life, Paul Smith says: ""Cool Wool is very important for us because Paul Smith is selling into 72 countries around the world and a lot of the countries we sell to are very hot all year round or very humid and so Cool Wool has really helped us with that and high twist wools and fabrics that have life, because a lot of our clients are actors, fashion designers, architects, graphic designers, people who are on aeroplanes, trains, travelling all the time so you need fabrics that have got life".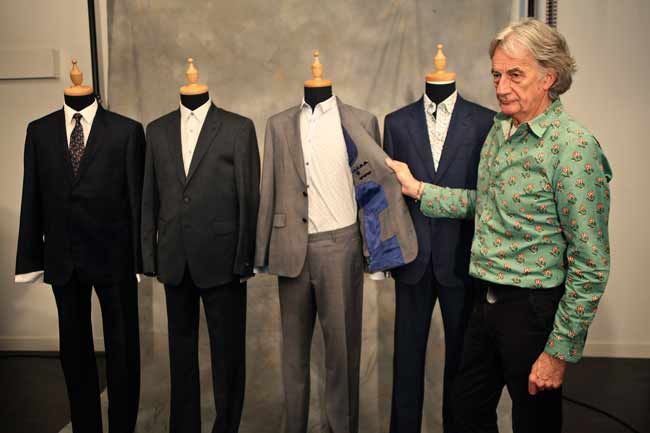 As a designer and head of a brand his connection with British manufacture has always been central to the brand identity, raised in Nottingham and being a young man in the 1960s when Mod and Northern Soul redefined how men dressed, its not surprising that he case to work with one of the great Yorkshire Mills, Clissold to develop exclusive lightweight wool fabrics using 100% Australian Merino wool that works in warm and hot climates making trans-seasonal garments. "This has been quite a big project getting Clissold to do this and what's nice is that the designers once they realise that they can do it, they get very excited. It reminds me of early days when I first started working with knitting factories, with wool, and one of the factories I first went to was just making school sweaters, v-neck and crew neck school sweaters in navy blue and burgundy I think, and grey ...the key to it, is motivating the designers at the mills and let the designers experiment. And the effect is fantastic!"
(Paul Smith). Fashion Fox will keep you posted about how the collection develops.If you can't wait that long to get your mits on Sir Paul's new clothes check out some choice pics from the fashion knight below, particularly that pink coat, who wants M&S when you can have Paul Smith?
comments powered by

Disqus
x
Email Post
You can email the Post below to a friend. Simply fill in the form and click send.
Post name: