FASHION fox
is a British fashion blog run by women's fashion insiders based in London.
With hot fashion tips, styling, fashion and beauty advice Fashion Fox takes you on an adventure in fashion.
Maria livings and her business partner Marie are co-owners of Lush Designs one of my favourite gift boutiques in London and online shops. Their shop is in the heart of historic Greenwich and they have been designing and making gorgeous gifts for the home and other desirables including silk scarves. I interviewed Maria about the history of Lush Designs and their humorous animal designs and her tenuous relationships with neighbourhood cats. Shop and portrait photography by Ellie Halley
Maria begins: "We were at college together and worked together after we left and moved to South East London in the 80s. We did Fine Art, Painting and Printmaking so it was art rather than design training. Lush Designs evolved from our business as designer-makers of costume jewellery, which was called Lushlobes. The jewellery itself came about as an offshoot of their interest in costume as well as ceramics both of which we also designed and made after leaving college. We changed from Lushlobes to Lush Designs in 1994 when we decided to concentrate on print and homewares."
"We didn't train as designers. We think our Fine Art background has been useful in that we are able to have a very open approach to imagery and base all our designs around our own drawing. We haven't ever really worked for anyone else. "
"At the moment our design style is quite illustrative, narrative and decorative. Its partly about ideas and stories, it reflects the love of drawing and printmaking and our enthusiasm for colour. This might change - we're always thinking about new things we want to do."
One of the animal themes is a scene of blue cats singing in a garden, when I first met Maria, I assumed she loved cats, how could anyone draw cats so well if they didn't love them…how wrong I was, Maria says: "I TRY not to hate the neighbourhood cats, but they do shit in my garden and frighten the birds (I love birds). I have a dog now who tries to kill them, so I feel sorry for them."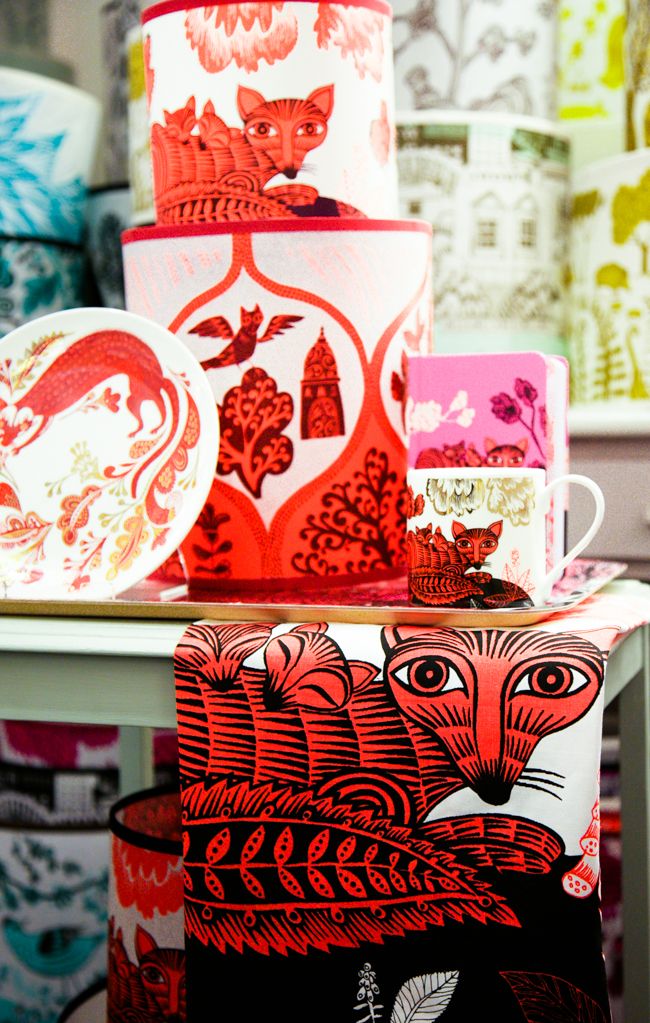 So how did the Foxes come into the range? "The foxes originally came about when we were commissioned to create some pieces for a space that was being used to host the opening of London Design Week at Cockpit arts where our studio is. I asked the organisers if there was a theme and they said "London, and travel in London" so I did the first Foxy shade with trees that looked like roads, it also has pigeons and cats on it, because these are the characteristic feral creatures we have in our midst in London. The first fox looked quite grim and sneaky, and because I actually think foxes are rather beautiful I created the iconic Fox and Cubs image to reflect their other side. I find them quite fascinating because I grew up in the country but I never saw a fox till I moved to Deptford."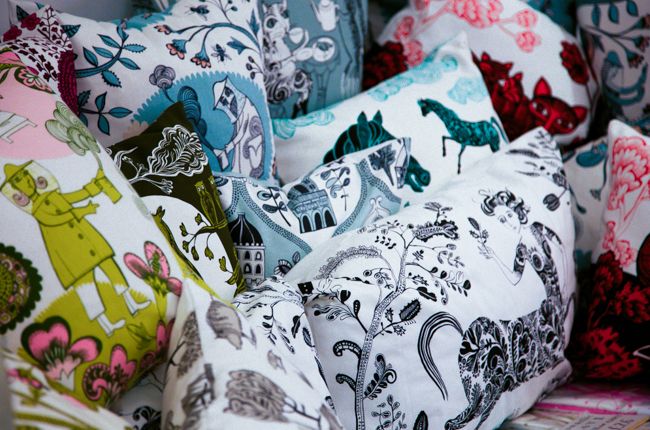 "The Civet (a wild cat) was inspired by an old water colour drawing I saw in a book. I didn't know what this animal was but I loved its dear little bandit face and chequered markings. It reminded me of a ferret called Mo that my Dad used to have. Then discovered it was a palm civet, who eat coffee cherries, and from whose droppings the digested coffee beans are extracted and then made into reputedly the finest coffee in the world. I incorporated the coffee-bean-studded turds into a paisley like design and put them a coffee cup and plate, embellished with gold. Exotic and decorative to reflect the origins of the design. Nature is endlessly fascinating." Marie has always lived in the Borough of Greenwich and our association with the town centre and the market goes way back. We had a market stall there from 1984 until 2008 when we opened our shop. We got the shop when we realised that the takings from the market were enough to cover the rent on a small shop. It's great having a retail outlet because we meet the lovely people who enjoy and buy our work. We can road-test products too and sell our seconds at bargain prices!" You can also follow their product development on their blog.
I wholly recommend visiting Greenwich for your shopping particularly your Christmas gift shopping and stopping by Lush Designs but if you cannot make the journey Lush Designs have offered our readers a 15% discount off items above £30 with the discount codeSPARROW13
Watch out for Maria's post for her top pics from Lush Designs.
comments powered by

Disqus
x
Email Post
You can email the Post below to a friend. Simply fill in the form and click send.
Post name: