FASHION fox
is a British fashion blog run by women's fashion insiders based in London.
With hot fashion tips, styling, fashion and beauty advice Fashion Fox takes you on an adventure in fashion.
Toft Alpaca Knit Kits. The Knit Nation event held at John Lewis on Oxford Street & Edinburgh Branches as part of the Campaign for Wool's celebration of Wool Week, proved that women love a bit of knitting and better than that making their own knitted accessories. I was shocked to see one high-end high street boutique selling an acrylic Aran scarf for £70!!! Toft Alpaca have created a range of knit kits from simple beanie hats, scarves to more complex knits such as socks and jumpers. Prices start at only £15 so its time to start knitting. Model: artist Jo Holland. Photography & Styling: Elizia Volkmann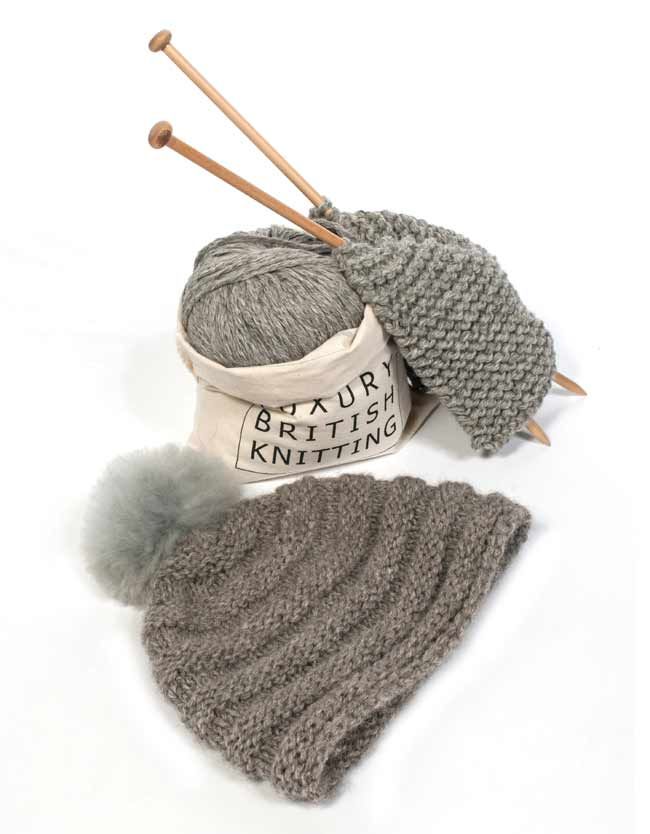 My kit arrived in a calico Toft tote with a ball of their Aran yarn in natural grey brown colour with a light marl effect a postcard with the pattern and for me the lucky review I was given the circular needles required, kits don't include needles but they sell excellent wooden needles which are great to knit with. I'm a fairly experienced hat knitter but their instructions are straightforward and knit up perfectly. The yarn is quite bouncy, you will find the first round of the knit a bit of a struggle and tight but once round one is over the tension and knitting is speedy and comfortable. You only need to know how to cast on, I recommend the long tail cast on which you can learn how to do on this youtube clip, then it is just alternating stripes of knit and purl stitches. You will need to buy a wool needled to gather and finish the hat. I found that the hat They also provide an Alpaca fleece pompon, which in my case was white and gives a sort of bunny's tail effect to the hat.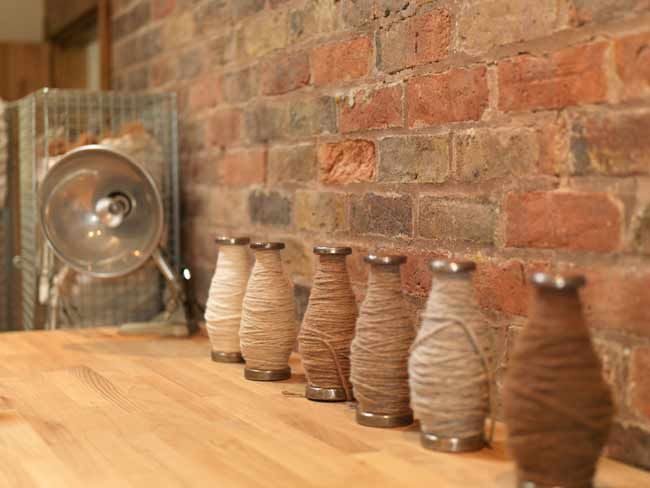 Toft's Alpaca is a very structured yarn and sits fine without faffing around with blocking it. The hat sits with a nice slouchy fit, it suits people with a longer face than mine (yes I've ducked behind the camera again and persuaded someone else to model). Toft's colour range is made of un-dyed and natural colours. Alpacas are intriguing Andean animals who have a range of 26 colours from white to espresso black and a gorgeous auburn and cinnamon tones. I will write you a full blog post about Alpaca soon so you can learn more about these amazing animals that originate from Peru. Toft is a UK breeder of Alpaca so when you buy a kit from them you know that you are buying a completely ethical product. The fleece or fur is from natural wastage, sadly not all the baby alpaca make it to adulthood and so this is where their fleece/fur comes from. No alpaca is slaughtered for their fur.
The fibre for the yarn is simply sheered with minimum stress. Toft Alpaca are well loved animals and if you're really keen you can go and visit them on their farm in Worcestershire where the Toft team run knitting and crotchet workshops and courses.
If this has wet your appetite for a bit of knitting then you can enter our competition to win their Beginner Beanie kit, which is their beginner beanie. Simply re-tweet this tweet. The competition runs until 30th November and a winner will be chosen at random and sent their prize.
comments powered by

Disqus
x
Email Post
You can email the Post below to a friend. Simply fill in the form and click send.
Post name: