FASHION fox
is a British fashion blog run by women's fashion insiders based in London.
With hot fashion tips, styling, fashion and beauty advice Fashion Fox takes you on an adventure in fashion.
Gabrielle Russell is an up coming film director. She has recently premiered her film "Falling" about a woman who leaves the secure life of a professional married woman to be with the man she has fallen in love with. She's a woman who knows how to achieve great things on a low budget. With future red carpet events and a friend's wedding on the horizon we explore affordable winter glamour thanks to F&F clothing styled from their West Kensington Flagship Store that opened a few weeks ago.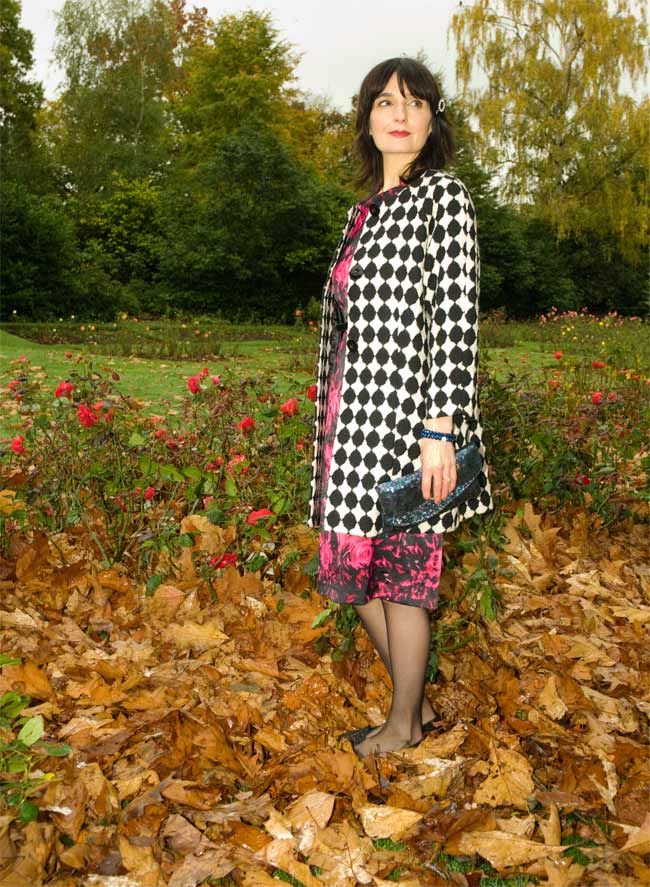 Gabrielle's style varies from eclectic boho to retro-chic. She mixes designer clothes with, market and boutique finds. She's a big fan of Vivienne Westwood and of elegant tailoring. She likes mixing up textures and patterns; so being asked to style her was very exciting.
Gabrielle loves statement coats so I chose this diamond checker board 50s style coat for her I think that this is one of the "must have" coats on the high-street. It has echoes of the 1960s, Hollywood on the Tiber with Gina Lollobrigida> and Elizabeth Taylor ruling Vanity Fair and Vogue front covers.
F&F have some great winter floral dresses, but to stand against this very graphic coat I went with this two-tone black and magenta rose print. 1950s wiggle dress with a cowl neckline and patent belt detail. This shoot was shot on location in Richmond Park and under dark skies is redolent of Hitchock's later London based films and Gabrielle had fun being in front of the camera for once. Normally I would team classic heels with this outfit but as Gabrielle suffered a serious ankle injury and surgery we had to look for a glamorous alternative, so I chose these black glitter lace slipper pumps, which can be worn with either a day or evening look.
Choosing accessories is always fun and F&F have a wide range of bags, I know that Gabrielle loves this bluebottle black/blue so this sequinned clutch was a perfect choice which teams well with the earrings and the beaded bracelet, I picked out two to give a bulkier effect that works well with these big statement clothes. To add a little bit of girly-ness I chose this diamanté clip which she loved. 10 denier tights are a must this year for glamorous looks, these are F&F's 15 denier tights which I think show off the shape of a woman's leg a little better.
Make up I kept to a simple glamour. Gabrielle has large dark but slightly deep set eyes so I set this off with Bella Pierre's shimmer pot in Champagne Cream and Celebration Gold. She has double lashes so only clear or a light mascara is needed. We're moving away from heavy foundations so Simples Kind to Skin+ BB cream is perfect; use it over your moisturiser. To keep a fresh look to the skin use a cream foundation in a fresh pink such as this Liz Earle cream blush. Lips shouldn't be solid this season, mix a high pigment plum lipstick with a liquid balm such as Carmax, which now comes in a variety of flavours other than their medicinal classic fragrance. Simply apply a blob of lipstick to the back of your hand add a smidgeon of balm, blend and apply with a lip brush for a more precise look use a lip liner, but to give this faux natural glamour look do without. If you want to use the colour whilst out simply press the lipstick to your lips to apply colour and then apply balm over the top. My favourite lip balm is from Defiant Beauty with warming ginger oil.
comments powered by

Disqus
x
Email Post
You can email the Post below to a friend. Simply fill in the form and click send.
Post name: