FASHION fox
is a British fashion blog run by women's fashion insiders based in London.
With hot fashion tips, styling, fashion and beauty advice Fashion Fox takes you on an adventure in fashion.
There exists a Scottish-based design duo who tell tales through their artistic fervour. Iain MacDonald and Anna Victoria Thorn who graduated from Gray's School of Art in 2012, are known as Naromode, which translates into 'narrative fashion'.
Photographer: Emily Wylde, www.emilywylde.co.uk
Hair: Anna Wade Make-up: Jamie Genevieve Styling: Roisin Ferguson
The same names and styles have been associated with the Scottish fashion scene for years. Naromode are new and different. Their stories are ones which both fascinate and excite, taking the viewer into the designers whimsical wonderland. Their work oozes creativity, concept and intrigue; it is bold in it's illustration and subtle in it's execution, resulting in wonderfully commercial but wholly unique pieces.
Naromode have successfully fostered the spirit of collaboration; each designer has a different style of mark making and illustrative capability which brings to the collection a rawness and edge brought about by two separate immersed imaginations and their resulting interpretations.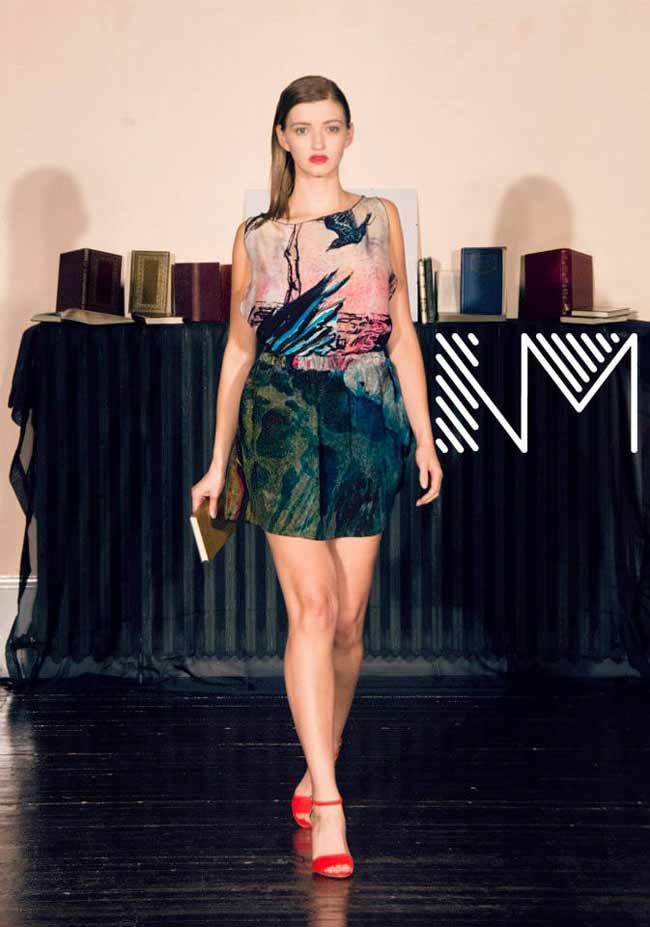 'The White Snake' is Naromode's debut collection, inspired by tales of folklore written by The Brothers Grimm. Hand drawn illustrations translate ideas through areas of hugely detailed and considered drawings which is a comparison to other areas of colour which have been applied in a less controlled manner. All fabrics are digitally printed, however due to the intricate illustrative and mark-making qualities, the garments retain their individuality.
The Brothers Grimm were of course two German folklorist brothers who were also academics, cultural researchers and authors. Initially, linguistic research was their main goal and they discovered that language is constantly eroded by usage, which resulted in Grimm's Law. Von Savigny, one of their main lecturers at Marbury University, encouraged them to take an interest in past cultures and the collection of tales through which they were initially identified were a development from what they considered to be their real work.
Their first collection of folk tales was published in 1812 and since, over 200 have been published, including Hansel & Gretel, Red Riding Hood, as well as lesser known titles including The White Snake. The Brothers felt that folklore could be built on the idea that a national identity could be developed in popular culture and as such, most of their tales reflect German cultural identity.
'The White Snake' is a tale about a servant who tasted the King's White Snake, which only the King was allowed to eat. In doing this, he discovered the snake gave him powers to communicate with animals. He began to develop relationships with the animals and used these powers to his advantage to get what he wished for, finding favour with ants, fish and ravens. He then learned the King was seeking a husband for his daughter, of whom he was captivated by. To marry the daughter, he was set tasks which were near impossible for him to achieve. At this point, he decides to use the animals to help him achieve what he must. He eventually wins the tasks and they live happily ever after after sharing a golden apple together. Naromode will have their SS14 collection available in February. They have a limited collection of scarves available for immediate purchases on Asos Marketplace, which can also be found on their website You might just have found your golden apple with Naromode.
x
Email Post
You can email the Post below to a friend. Simply fill in the form and click send.
Post name: