FASHION fox
is a British fashion blog run by women's fashion insiders based in London.
With hot fashion tips, styling, fashion and beauty advice Fashion Fox takes you on an adventure in fashion.
Interview with Shona Heath Set Designer for Mulberry
02 December, 2013
Written by Fashion Fox in Interviews
When I meet Shona Heath fatigue is beginning to tell. She's been up since She is the designer behind the amazing Mulberry window sets in Harrods front windows commissioned by Mulberry. She's imagined a magical world that embraces the idea of the English countryside, its animals and birds where Mulberry bags sprout from the ground to be inspected by curious badgers and foxes.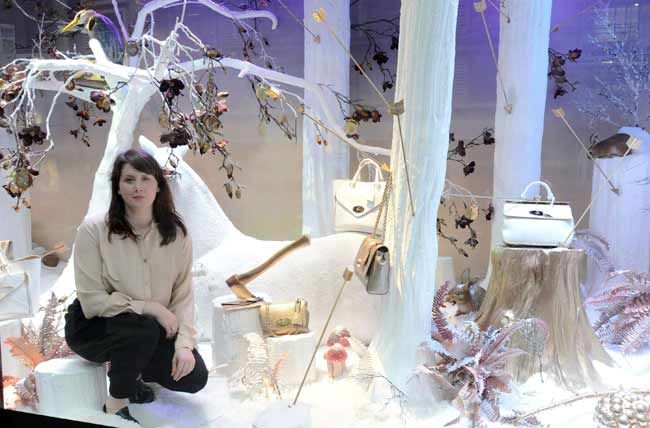 She's looking uncomfortable, not because she's not comfortable with interviews but because she's been working in fake snow and its everywhere. "I can't wait to take my shoes off, I have snow in my shoes, I have snow in my bedroom, snow in my bed, in my hair, its everywhere. I normally wear black but this has been the worst thing, otherwise she's very happy and smiling now that the windows are fully installed and on show to the public.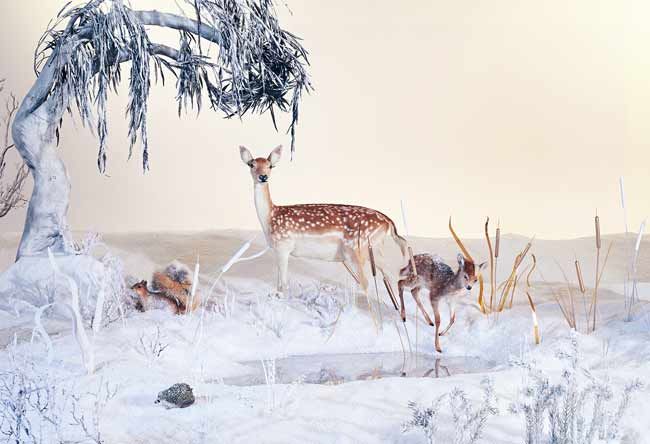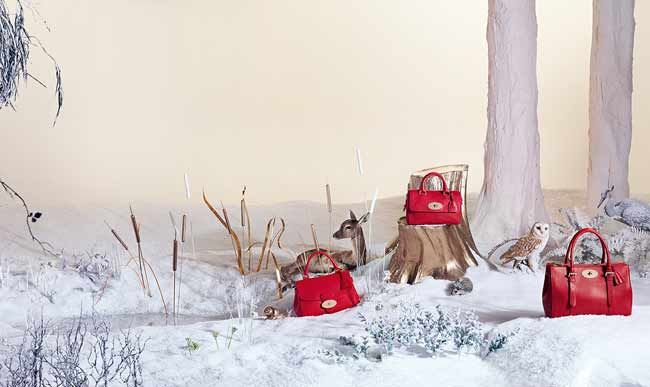 " I originally studied fashion design and then got into styling and costume making which led onto art direction and set design." "I ask her about working with Mulberry: "I grew up in the Worcester countryside. I think that the motifs that they refer to are ones that I like to refer to and their sense of humour we share so as a brand I love working with them."
She talks about when she was presented the design brief for the window project: "My gut reaction was to do something based on nature rather than something twinkly and 'all singing all dancing', I really wanted to create a very raw British Countryside which is the world that I grew up in with brambles and wild teasel brushes.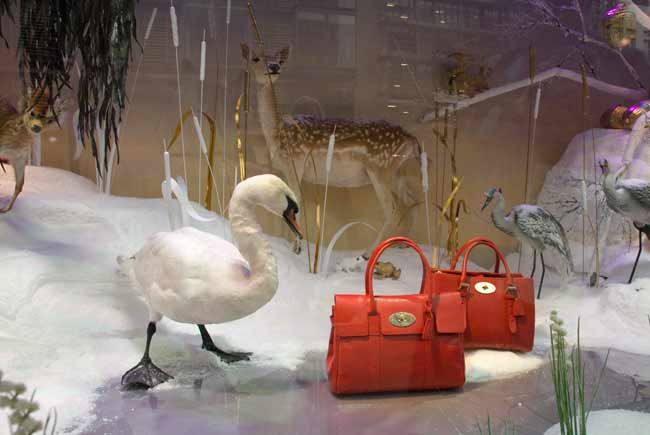 There has to be a story, something interesting with a hint of luxury, to try and join that up I wrote a story about the Snow Queen who gazes over her kingdom and everything she touches turns to gold and the animals tell the story, there will be golden whiskers and golden paws or a foxes tail that turns to gold and that narrative helped tell a visual story and so I came up with ideas. There are little motifs, if you look there's an arrow motif in the wrought iron gate and the slightly more domestic scenery which later on turn into golden arrows in the more wild crazy woodland scene, so it is a narrative that enabled me to have lots of fantasies and create beautiful things."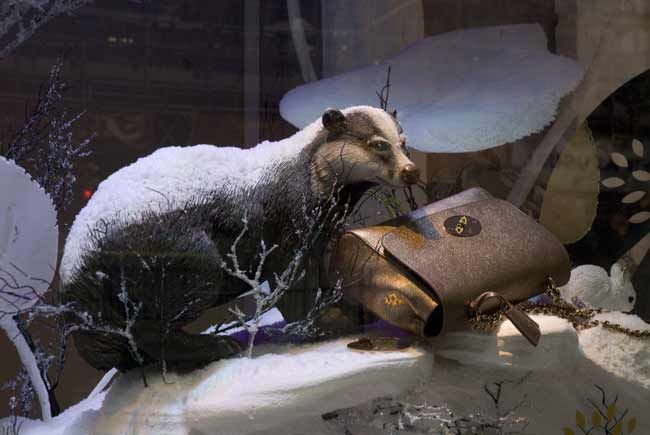 "My approach is always a wild start and I gather and gather and then focus in on some smaller details that become pockets of details and then that becomes a story in vignette so it goes through lots of different processes. I never know how things are going to look until they are done and I am always open to them changing as well, so I wasn't so dead set on what it should look like, I just wanted this raw feeling to come through so it didn't look Disney, so it looked British, it looked English.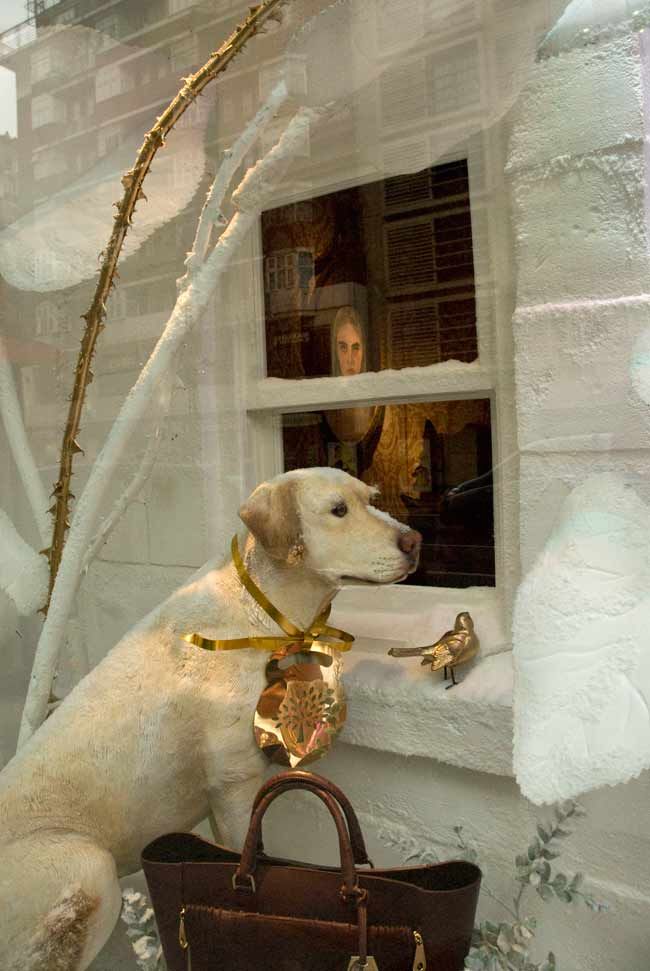 She laughs when I ask her about the "creepy painting of Cara Delevigne" and who painted it. "I did!" Shona laughs, saying, "you might be the only person who noticed it"
Cara is such an important part of Mulberry she really personifies them, they have a nice synergy so they were really keen on them having a presence of her and they were really keen on maybe having her lying down in the snow and that (the painting) was the way that felt more natural for me for her to be more in the domestic situation and the idea that maybe she live there and perhaps dreamed the world outside,"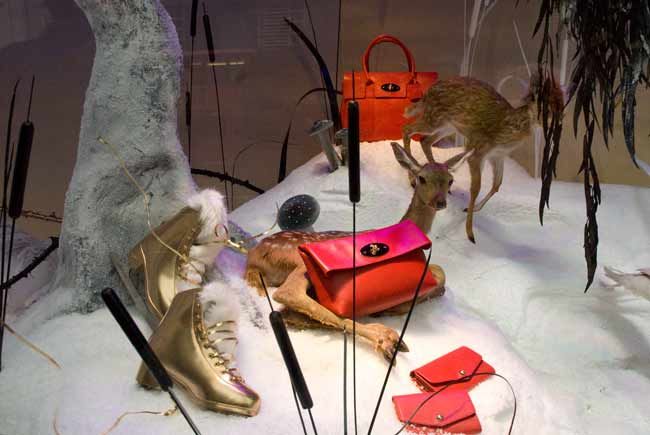 "I think that wanted to hint on a luxury life within the countryside somehow joined to countryside so the Labrador is a domesticated version of the woodland animal, I like that, and the same with the Dachshunds, I like that slightly cuter side of the countryside.
They actually resin animals, but everyone we've repainted and added fur tips to the ears and the tails, eyelashes, really detailed them up so that they become more characterful and it feels that you can look at their faces for longer than just off the shelf. There's a lot of care has gone into the work into the project. I really enjoyed staring into the windows and visually exploring all the little details and playfulness. If you've enjoyed this post, you will be glad to hear that you have a chance to make your Christmas Fairytale wish come true. Mulberry have launched a competition. Guess the story that Downton Abbey star Allen Leach is reading in the video to enter. If you're struggling to remember the answer is in this post.
Good luck and happy Christmas shopping!
comments powered by

Disqus
x
Email Post
You can email the Post below to a friend. Simply fill in the form and click send.
Post name: