FASHION fox
is a British fashion blog run by women's fashion insiders based in London.
With hot fashion tips, styling, fashion and beauty advice Fashion Fox takes you on an adventure in fashion.
Monday's are not really my favourite it's a mad scramble to get posts up and get the week off to a flying start but this Monday I got to spend it in my own fantasy world where I'm driven everywhere, and have breakfast at Claridges and step into a frozen fairy tale, Myself and a host of fashion journalists and bloggers were given a real Monday morning treat to celebrate the launch of the Mulberry Fairytale Christmas Window displays in the shop windows of the greatest department store in the world: Harrods. Designed by art director and set designer Shona Heath the series of windows tell a story of an enchanted land ruled by a Snow Queen who turns all the animals who touch her magic Mulberry tree into gold, but let us begin at the beginning.
The beginning of course was an early start ameliorated by a car picking me up to take me Claridges. Claridges and Harrods are two places in London I could merrily live in, thought it might be easier at Claridges. After teas and fruit juices and given a pack-up of hot bacon sandwiches we boarded the Harrods bus, an old route master painted green and looked after by the cheery Michael from Harrods who I'm sure if you dressed in him up in the appropriate costume would make a fantastic Santa. I had the good fortune to be sitting with Anne-Marie Verdin who is the brand director of Mulberry and found ourselves deep in discussion about shoes and the professional working girl.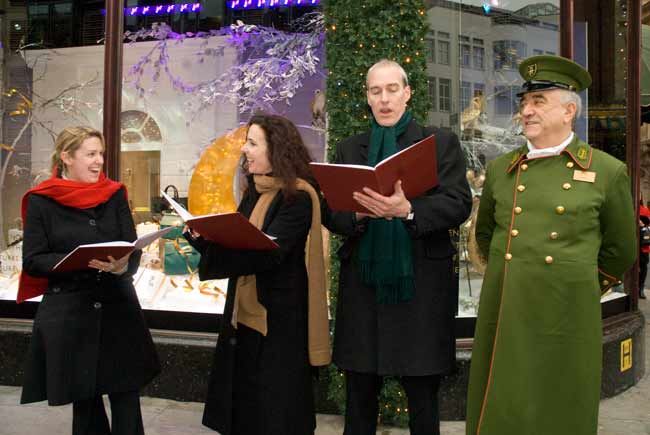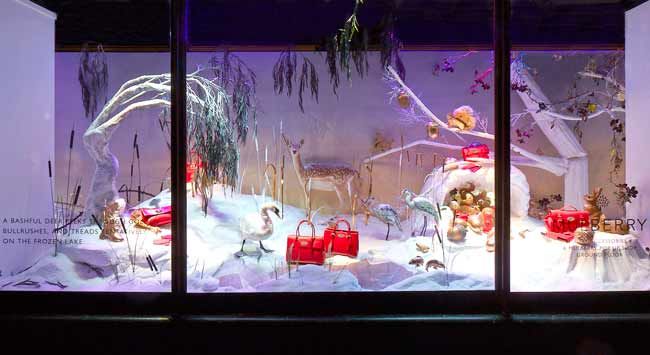 As we descended from the bus, we were greeted by carol singers to get us in the festive spirit and introduced to the wonderful winter wonderland sets designed by Mulberry's long term collaborator and set designer Shona Heath before entering the warmth of Mulberry's pop up shop which is open until Christmas.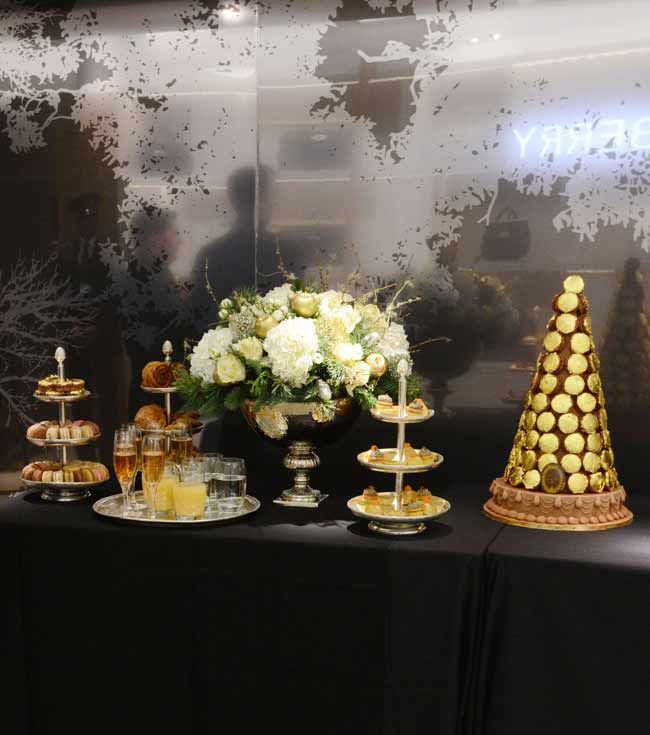 If the towers of gilded macarons from Laduree and pink champagne were not enough we had a real surprise Allen Leach star of Downton Abbey read us the final scene of Charles' Dickens Christmas Carol. I have to say to all Downton Fans that Allen is much more handsome in real life and I'd be a happy woman if he wouldn't mind calling round to read me my favourite books.
There will be more story telling every Saturday in the run up to Christmas with Murray Lachlan Young will be reciting a festive poem on December 7th, and on 14 December Kids Company's Camilla Batmanghelidjh will be reading her own fairy tale creation. The gold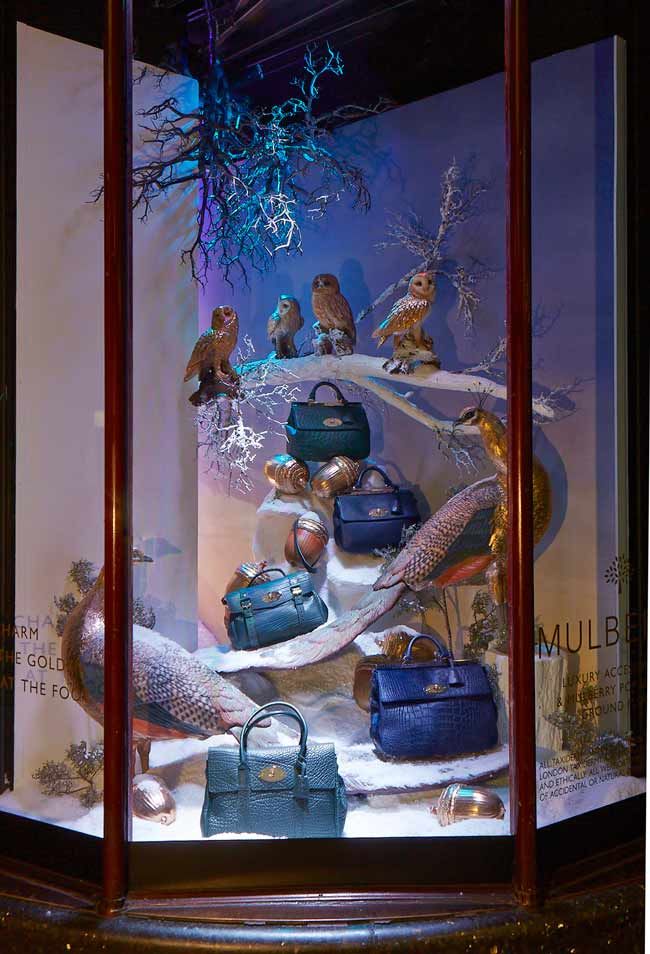 Lily bag is a special purchase, for every bag bought Mulberry will donate to the Kids Company. If you're not adept at gift wrapping fear not Mulberry will be offering a special gift wrapping service and so as Anne-Marie says, "Mulberry makes people happy at Christmas," and I'm sure you'll find something to make you or your loved one's happy, my personal favourite and coincidentally the favourite of Emily from Fashion Bite is a gorgeous mulberry coloured suede clutch bag.
There is also an amazing competition to enter at Mulberry's website to win a Mulberry Fairytale dream come true.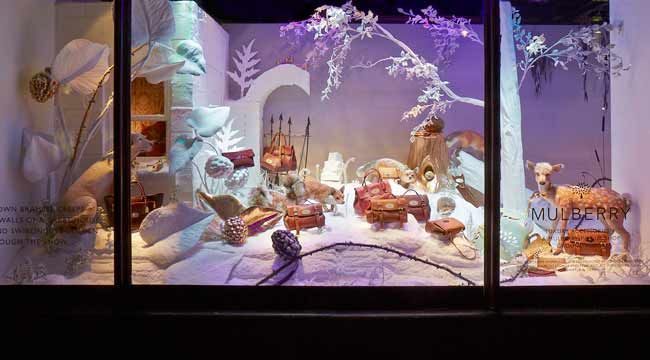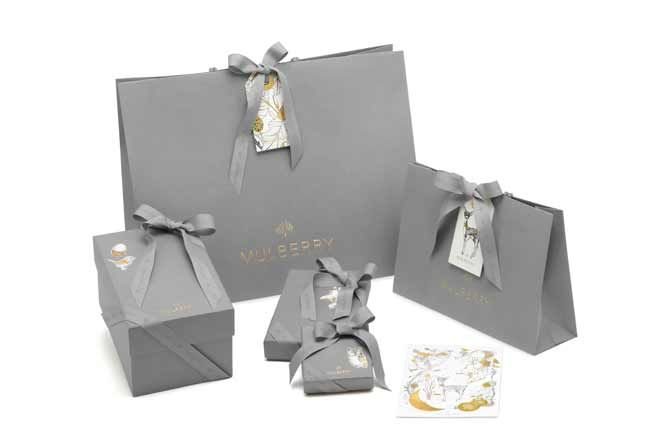 So after a couple of hours spent in Christmas fairy land, work and the office called me back to reality, but not before I had a swan around Harrods and did some Christmas shopping in their fabulous food hall for friends. This was probably one of the nicest ways to spend a Monday morning. If you want to read more about the story behind these windows read my interview with the designer Shona Heath. If you want a little magic to brighten up your Christmas shopping I recommend you go and see for yourself and see if you can find Cara Delevigne deep in the Snow Queen's Kingdom!
x
Email Post
You can email the Post below to a friend. Simply fill in the form and click send.
Post name: