FASHION fox
is a British fashion blog run by women's fashion insiders based in London.
With hot fashion tips, styling, fashion and beauty advice Fashion Fox takes you on an adventure in fashion.
Artist and stylish spectacle wearer Jo Holland has joined our writing team to explore new innovations in fashion eyewear. Jo's art practice is all about light and colour so she was the ideal person to send to an event celebrating the Ic! Berlin and Transitions lens collaboration. Ic! Berlin are renowned for making cool frames, and transitions lenses are famed for making lenses that are dark in sunshine and adjust to changes in light intensity. Jo went to see why these companies have come to London to party and what they have to offer the bespectacled fashionista.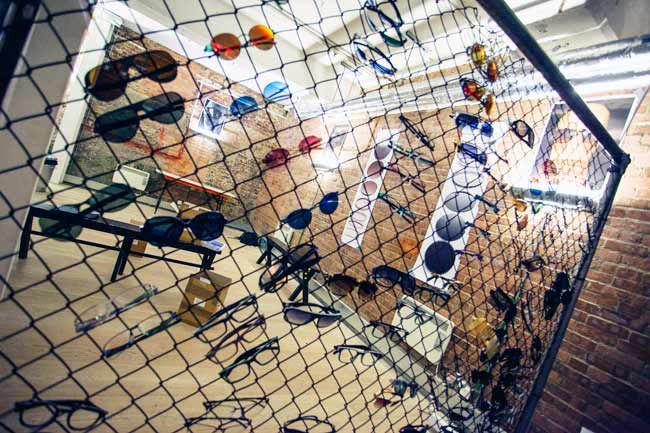 Recreating a taste of Berlin, held in the very cool Vinyl Factory just off Carnaby Street in the heart of London, in celebration of the new frames collaboration between Transitions Optical and ic! Berlin, that was held on afternoon of Tuesday 2nd December was not to be missed!!
Ralph Anderl the founder and designer of the brand was there bopping away to the performance by ic! Berlin's resident artist, Friedrich Liechtenstein in the neon lit, laid back cool atmosphere, serving Berlin inspired food and drinks...and chips!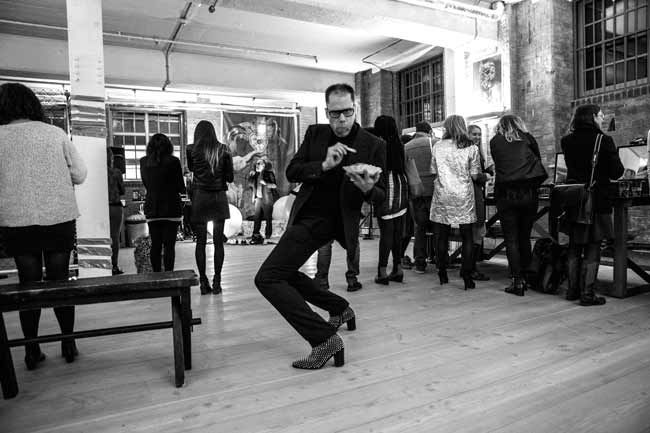 Ic!Berlin's designer Ralph throws some shapes on the dance floor
It's a smooth 'hand in glove' company collaboration with the subtlety of the Transitions Optical lenses, complimenting the lightness and ingenuity of the ic! Berlin designs perfectly.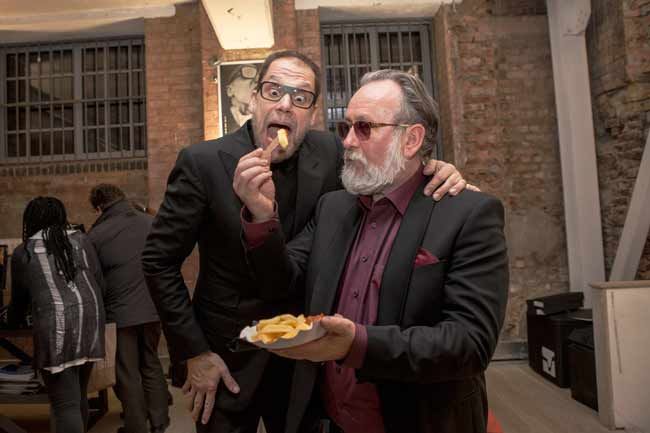 Ralph & Ic! Berlin in house artist Friedrich digging on the fries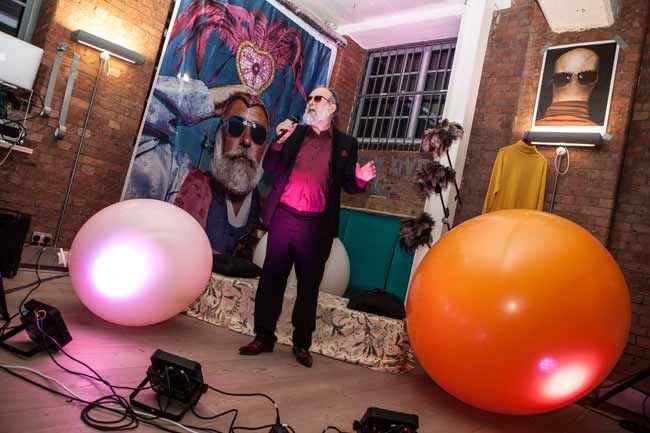 Echoes of a Berlin warehouse studio
Both companies are built around light but from completely different takes - ic! Berlin being concerned with the lightness of the frame, (you almost forget you are wearing glasses at all!) and Transitions Optical lenses do just that! the lenses transition very gradually from light to dark to light dependent on the amount of UV light reactivation in the surroundings as you go about your business, it's such a gentle transition that it is almost unnoticeable. ic! Berlin sells sunglasses but also prescription glasses, reading glasses and designer glasses.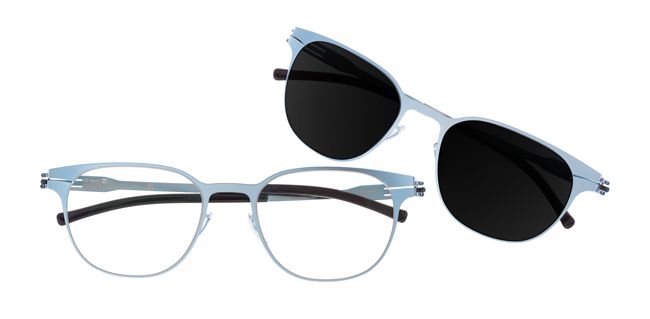 They are made of sheet metal or acetate, or a mix of these two high quality materials. The sophisticated patented screw less hinge system is unique, refined and yet distinct. This event was essentially a preview of the new SS14 collection, although a full range of designs were on show that cleverly caters for all tastes from a touch whacked out to the elegant and serene. After trying a wide variety of frames with the very helpful Brand Marketing Director, Mylene de Saint Pierre, I wanted to try something new to me and not play safe so I finally decided on the 'black hole' frame with brown transition lenses. I later found out this style was worn by Catherine Zeta Jones in the film Side Effects released earlier this year.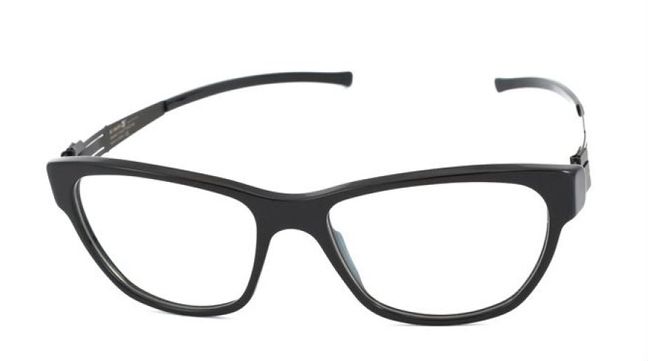 The lenses are available in two colours, brown or grey, brown when activated enhance contrast whereas grey remain more neutral, as an artist the colour choice was a no brainer! All attendees got to take away a pair of glasses either prescription or non-prescription prepared by the wonderful John Schubach, I cant wait for mine to arrive in the post. Having nibbled on fries with bbq sauce, I attempted to build my own ic! Berlin frames, enjoyed the performance from their very own resident artist (Friedrich lives in their factory in Berlin), it was hard to leave this brief taste of Berlin!! it truly did make me reminisce about the 24 hour visit for my participation in this years Berlin Liste Art Fair I had the pleasure of experiencing in September previously this year, Thank you ic! Berlin, Transition Optical and Chase PR for a memorable experience! To find an ic! Berlin store near you check their website storefinder.
comments powered by

Disqus
x
Email Post
You can email the Post below to a friend. Simply fill in the form and click send.
Post name: