FASHION fox
is a British fashion blog run by women's fashion insiders based in London.
With hot fashion tips, styling, fashion and beauty advice Fashion Fox takes you on an adventure in fashion.
Dear Santa,
I know it's been a long time since we've corresponded (12 months to be exact), but I figured my last letter got lost in the post or in your junk mail folder, since I never got a response. I'm not being ungrateful and I truly enjoyed the pyjama set I got last year (and still use it!), but wanted to let you know what I wanted for Christmas this year: A Rolex, specifically an Oyster Everose Gold Day Date II.
Rolex Oyster Everose Gold Day Date II
Now I know what you're thinking and yes, I've been good this year; I only blocked you from my newsfeed as un-tagging myself from incriminating photos was getting tedious. Also, the man was very understanding in the end about his eyebrows after I explained the semi-permanent marker would wash off. It was partly his fault for falling asleep in a public place, so I can't be held entirely responsible. Anyways, I know this is a rather big ask, but after careful consideration, here are my arguments for wanting (and deserving) such a luxurious gift:
1) I'm a child of the 80's: I grew up in the era of Wall Street, Michael Douglas's perfect blow-dry, Dom Perignon and caviar dreams. All of the icons drove Mercedes, smoked Cuban cigars and wore Rolexes. It was the ultimate symbol of power, sophistication and wealth and the classic style still communicates a sense of accomplishment. Okay, I haven't quite achieved that level of success, but didn't someone say that you should dress for the status you want?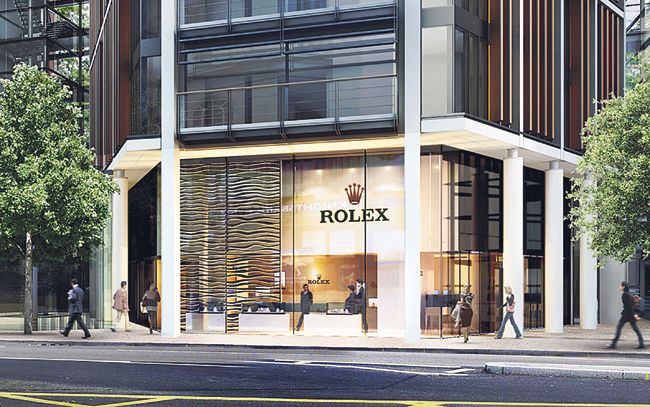 Rolex Gallery, 1 Hyde Park, Knightsbridge, London
2) The watches whisper elegance: While some watches scream to make themselves heard (*cough* Jacob & Co), Rolexes are beautifully crafted, yet understated. The brand also has a respectful amount of integrity; okay, it would be nice to have my initials spelled out in diamonds on the band, but Rolex works hard to preserve their name and status. This means that it is impossible to customise a Rolex, and as a result have tighter control on the image each watch projects. And no, they won't even do it for you Santa.
3) Rolex is one of the few luxury brands who still understand the meaning of luxury: I recently visited the oasis of calm that is the Knightsbridge flagship store (Santa, this mission was purely for reconnaissance) and was ushered into one of their exclusive VIP suites. The manager brought a selection of watches for me to try on at my leisure and personally talked me through each design. The attention to detail as well as the knowledge of the product made the experience very special and I left feeling like a valuable customer. Very different from Bond Street on a Saturday.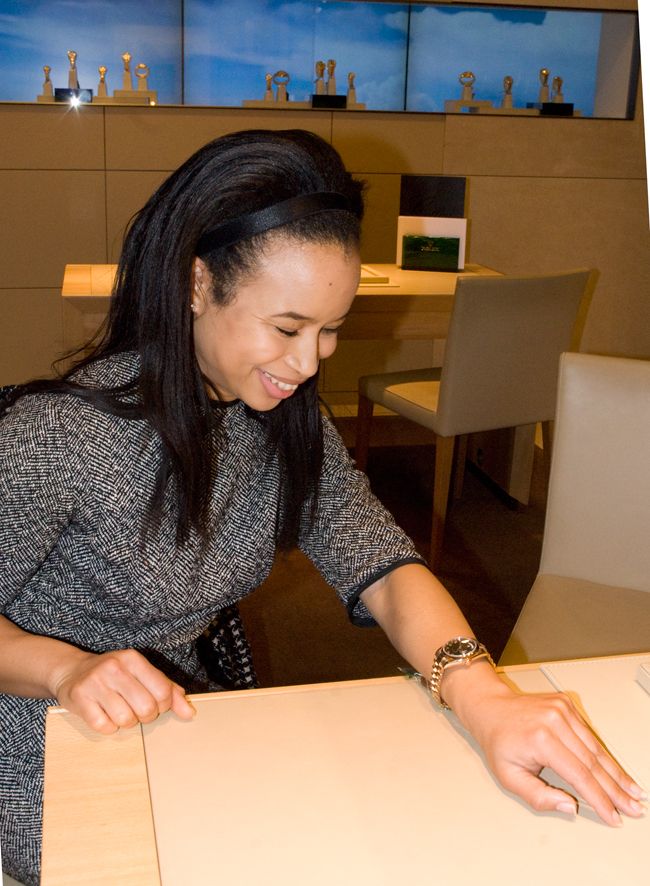 Andree wearing the Rolex Everose Gold Day Date II watch in the Rolex Gallery at 1 Hyde Park, Knightsbridge, London
So there you have it, Santa. I'm sure, after weighing up the pros and cons, you'll find my arguments compelling and agree that yes, I do deserve a beautifully wrapped watch-shaped box under the tree and to start my new year with a hefty weight on my wrist (and no, I don't mean handcuffs). I hope you aren't too stressed and I look forward to hearing from you!
Lots of love and Merry Christmas,
Andree x
comments powered by

Disqus
x
Email Post
You can email the Post below to a friend. Simply fill in the form and click send.
Post name: