FASHION fox
is a British fashion blog run by women's fashion insiders based in London.
With hot fashion tips, styling, fashion and beauty advice Fashion Fox takes you on an adventure in fashion.
Unless you've been living under a rock and haven't been online or read the news for the past month you will know about or have seen the video by PETA showing the brutal de-furring of Angora Rabbits in China. Brands such as ASOS,H&M, M&S, Next and Esprit have decided to boycott angora, but many chains such as Zara are still buying Chinese Angora To keep up the pressure on Giant "rabbits" converged on London's West End on Thursday morning to ask Christmas shoppers not to buy angora wool.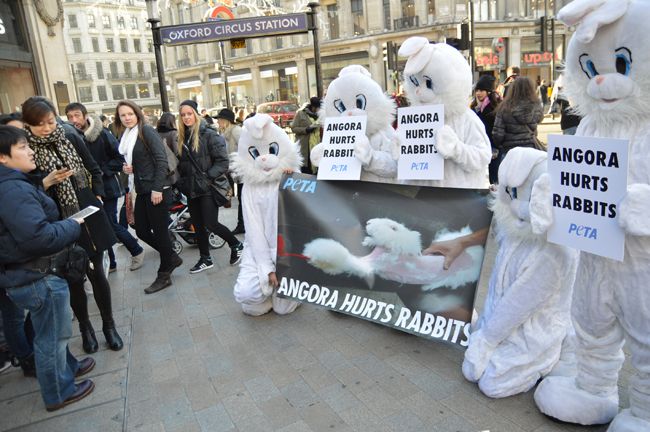 PETA took to Oxford Street to take the message about mistreatment of angora rabbits in Chinese Factories
The shocking image of a tethered rabbit having its fur torn from its skin in a Chinese Factory photographed by PETA
We have embedded the video so that you can see what is happening in China but we do warn you that this video is highly distressing. This is NOT the way that angora fibre should be harvested. The problem is that China provides cheap fibre and farms rabbits intensively there are an estimated 50 million rabbits being farmed in China.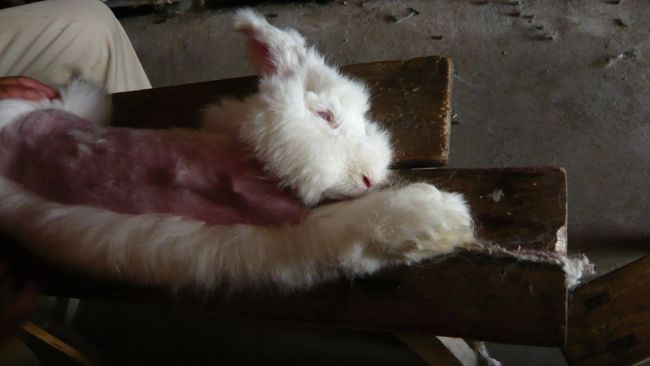 Orkney Angora say that the chinese source they use is ethical, but we because there is no sourcing transparency in the mass fashion market we have no idea how many of the 50 million rabbits farmed are being mistreated or how many are ethically treated. What Orkney Angora say is that their supplier is aware of Western opinion and that is why they use the same gentle techniques that Orkney Angora"> used on their farm. So the question is whether an outright ban or education and pressure are the ways forward. It will probably take an initial boycott first to apply the necessary pressure to make China wake up. There is most probably a human welfare issue involved too. Would you really want to tear the fur from a screaming, bleeding rabbit if you had the opportunity to do a better paid job? It makes me wonder as to how workers and animals are treated in order to normalise such daily brutality and have compassion for animals and people like.
How NOT to clip an Angora Rabbit, you should never hold a rabbit by its ears.
Angora rabbits have very dense fur and do shed, if you kept a rabbit you would have to clip and comb your furry friend to prevent him/her from developing gastric hairballs which can cause digestive blockages and death, but the correct technique as advised by Angora experts is to be gentle and the rabbits should be handled carefully. Angoras make lovely pets as they are very docile and gentle, which makes this cruelty even more sickening.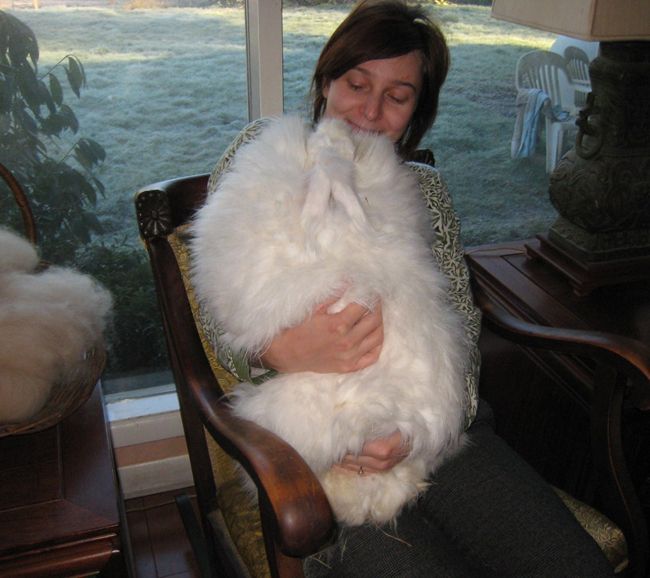 Angora rabbits are gentle and can be handled easily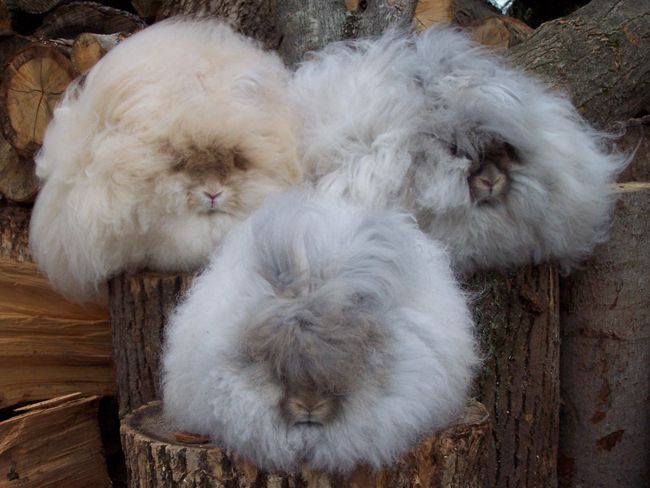 Healthy Angora Rabbits
"Watching PETA's exposé of angora farms in China sickened me", added celebrity vet Emma Milne. "Rabbits are social, prey animals with complex welfare needs and it's clear from this film that their mental and physical wellbeing is being totally and utterly disregarded. Quite simply this practice must be stopped and I would urge everyone to boycott angora products until that time comes."
The thing is high street stores survive by making clothes for the mass market and try to keep prices down. This means it is unlikely that they could afford to make and sell ethically produced angora, so a simple boycott is the way forwarded. PETA believe in not using any animal products. I don't synthetics bring their own environmental and ethical problems and natural fibres have a lower environmental impact, but as Fashion Editor for Twist Magazine I have written about natural fibres for over six years, so I do believe in transparency in sourcing, good animal welfare and being able as a consumer to make informed choices and know that the animals that have given up their hair have a good life, well fed, good living circumstances, treated kindly with respect.
There are good animal welfare standard badging on certain products such as the New Zealand ZQ badgewhich ensures the origin of the merino sheep, (John Smedley sources only ZQ Merino) ensures that not only they are cared for, but the welfare of the farmers, that they are paid a fair price and also checks the health and care of the sheep dogs. So it can be done, but it requires effort and investment.
There are sources of ethical angora but they tend to be much smaller, non-intensively farmed mostly for the artisan knitting yarn market. Big Wigs Angora in Skipton, Yorkshire is an example of how Angora rabbits should be kept.
Following an overnight development, PETA welcomes Gap Inc.'s suspension of angora with the caveat it will lead to a ban so that rabbits and consumers can breathe easy again.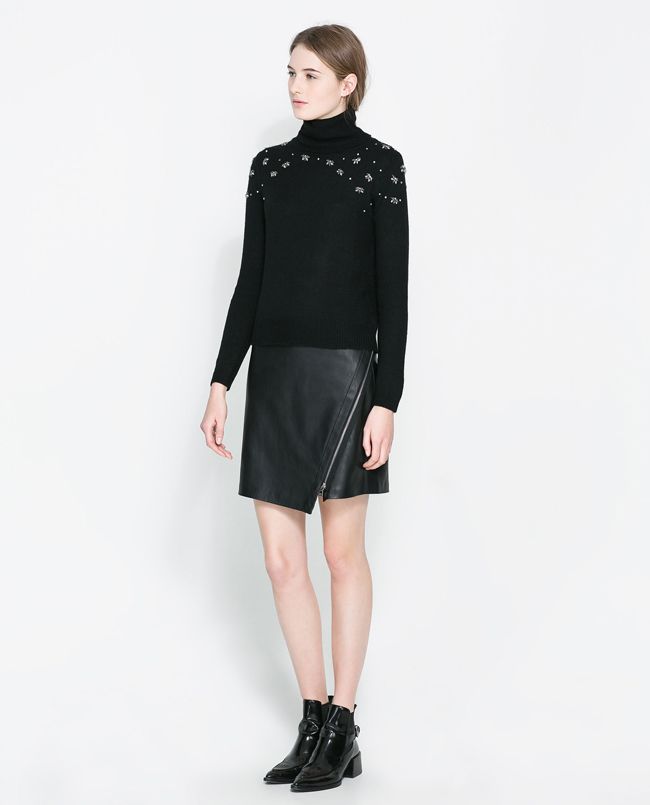 Zara still haven't signed up to the boycott, this jumper contains 11% angora for a fluffy finish. It retails at just £45.99.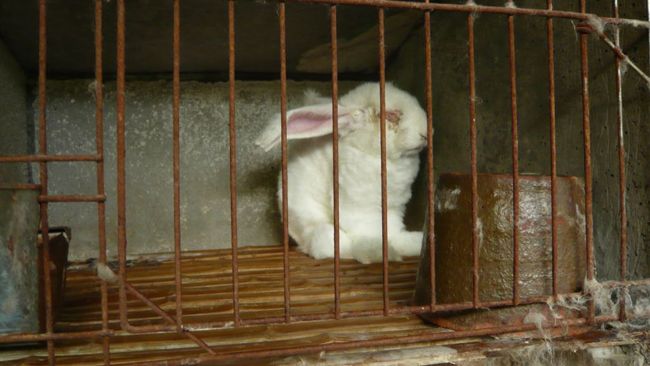 This Angora rabbit in a Chinese factory farm sits in a dirty cage with an eye infection, alone with not veterinary attention.
I do believe that we as consumers do have the power to make a difference, simply not buying Chinese Angora is a good step but being more vocal and making complaints is better. We should also be putting pressure on our government to send China a clear message that we do not want materials made through cruelty. But David Camerons conceding to Chinese demands to abandon the Tibetan cause and to never meet with Nobel Peace Prize Winner HH Dalai Lama may or may not have changed the UK's bargaining power when it comes to animal welfare and trade standards. For now in the world of fashion it seems that until we have a global standard for the care of Angora rabbits it seems that the only way forward is an outright boycott to force a change.
Visit PETA's website more information and to find out how to support the campaign.
comments powered by

Disqus
x
Email Post
You can email the Post below to a friend. Simply fill in the form and click send.
Post name: