FASHION fox
is a British fashion blog run by women's fashion insiders based in London.
With hot fashion tips, styling, fashion and beauty advice Fashion Fox takes you on an adventure in fashion.
Mulberry Spring 2014 Photo Shoot
03 January, 2014
Written by Fashion Fox in News
Mulberry may be without a Creative Director steering the ship, but there seems to be no slowing down the Mulberry creative juggernaut. As the sales are soon to become a distant memory, with easter eggs already in the shops we're hungry for the lightness of spring after a very heavy, dark, wet winter.
Photographed in Shotover, a grande English Country house set in the rolling hills of Oxfordshire nestled within mysterious valleys, there is not a little of a smattering of that famous former Oxford resident Charles Staples Lewis (Lewis Carol. Heading up the campaign again is Cara Delevingne whose face is not a little reminiscent of Alice. You can almost here Cara thinking "curiouser and curiouser".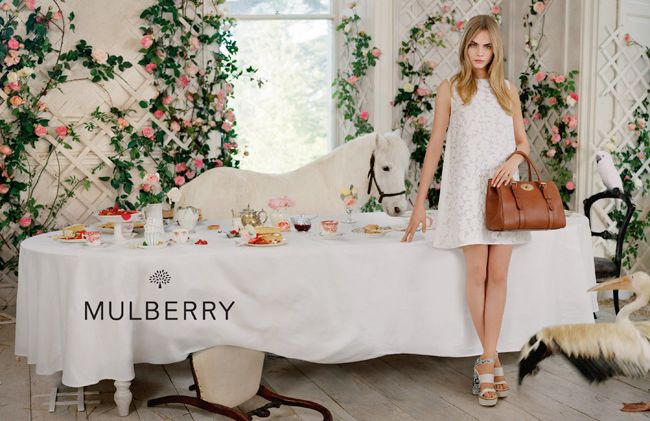 Mulberry's Spring ad campaign shoot is the sprung from the collection imagination of photographer Tim Walker, Art Director Ronnie Cooke Newhouse Creative Director of House & Holme and styling by Edward Enninful with Cara Delevingne modelling in her second ad campaign for Mulberry. the truth behind the story is that ignoring the wisdom that says: "never work with children or animals", is perhaps a tad foolhardy, but then Mulberry is an English brand and the English do love their animals, however naughty they may be!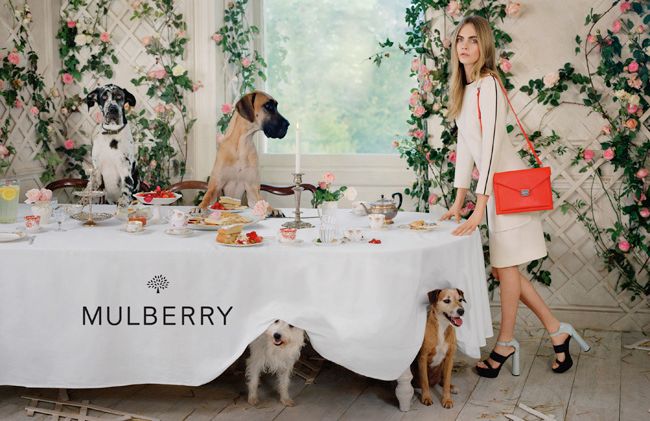 Ronnie Cooke Newhouse, Creative Director, House and Holme: "The Spring Summer 2014 campaign was a beautiful but naughty tea party with Cara and her Ark of animals: the perfect Mulberry moment. They didn't have the best table manners, but Cara was very forgiving..."
Anne-Marie Verdin, Brand Director, Mulberry:?"I don't think I have ever been on a shoot with so much talent in the room…and I am not talking about our animal friends! Tim Walker's vision gives a romantic, literary and very British feel to the Mulberry brand and Cara has more spirit, true beauty and warmth than you could ever hope for: charisma with a capital C! Ronnie Cooke Newhouse and Edward Enninful created a stunning visual look for Mulberry's new collection and everyone behaved beautifully, except for a mischievous monkey who was sent home for bad behavior…"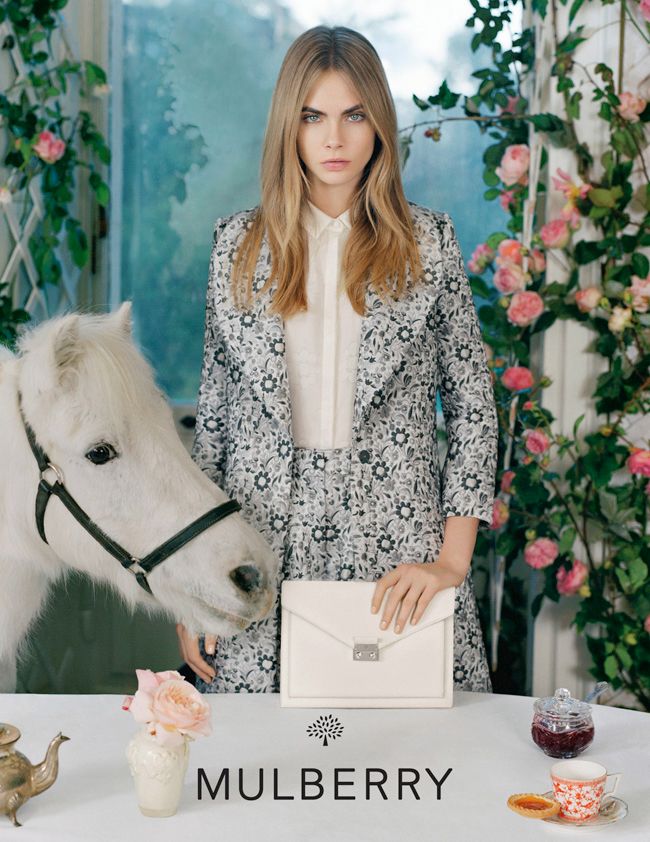 As you well know this collection is Emma Hill's final bow, filled with a recurring daisy motif, navy blue, bold vermillion, white and silver, embroidery, textures of white on white and softer bleached versions of the core palette for people who prefer a subtler wardrobe. For Mulberry bag fans highlights include the Bayswater double zip tote and the Kensal shoulder bag which are our favourites, choose either in the classic staple of navy blue as an investment or be bold and get it in vermillion the orange red of Chinese cinnabar that was once as expensive as gold.
comments powered by

Disqus
x
Email Post
You can email the Post below to a friend. Simply fill in the form and click send.
Post name: