FASHION fox
is a British fashion blog run by women's fashion insiders based in London.
With hot fashion tips, styling, fashion and beauty advice Fashion Fox takes you on an adventure in fashion.
As the last dregs of the sales eek their way out of the stores, there are still chances to pick up some great bargains, because after all winter is going to carry on till at least March if not April. It is extraordinary how the words "bargain", "discount" and "sale" have on the human mind and the rationale of a nation. I have to admit I have a dozen items in my wardrobe, still with tags on, unworn and up to a decade old.
Originally supposed to warn you all way from the hazards of shopping between Christmas and the new year. I spent Boxing Day resolutely on the sofa, in my pyjamas while my daughter decided to brave our nearest town, in the hunt for bargains. This was no mean feat, as she really did risk life and limb as the river that runs through the town centre had burst its banks and was largely underwater.
I felt smug, and warm and slightly drunk with no regrets whatsoever about my decision to stay home. Then she got back, bargains galore, actually really decent stuff, even sane people would buy. A gorgeous leather tote for £15, lovely brogues £10, some very nice jeans etc, etc. And then it struck me where iId been going wrong all these years.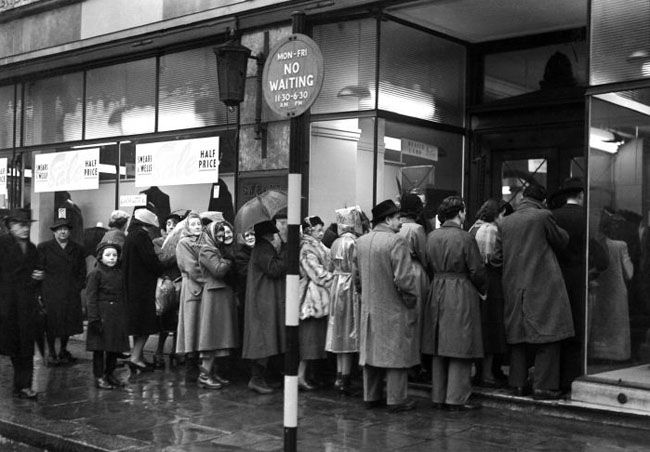 I have always headed for the big designer department stores in the sales, hoping to buy some fabulous pieces at a snip. It warped my sense of style, seeing items reduced from £500 down to £90 and made them seem like the bargain of the century because they were designer, like the lime green puffball skirt I once purchased, and those boots that were just a bit small. I still have them, they have never been worn, I still think maybe one day they will be perfect for something, I can't admit defeat after all they were fabulous bargains.....only they weren't. If I added up what i'd spent on all these unworn designer items over the years you'd be shocked.
So here's the thing, my daughter went out with £100 Christmas money to spend in the sales. She wasn't after some avant garde statement, she was after items she would actually use and wear on a daily basis, she went down the high street and chose wisely, not trying to be clever or make a statement, just to get really good value for money. I was jealous, so I decided to sneak down the high street myself, and I bought useful things, staples, nothing to make a statement. I spent far less than I would have done on my usual bargain of the century, the tags have already been removed and I've even worn some of the items! I think I've cracked it. Only buy the clothes you'd normally buy and pay a lot less for them. Genius! My other top tip is to wait till the first stampede is over and then pick through the sales at leisure when the first wave of rage has abated, its often the quieter moments where you can pick out things you really want. I remember a finding a fabulous black dress wrapping itself around my ankle in House of Fraser, which turned out to be the best dress I ever bought, garnering many a date. Remember a bargain is not a bargain unless you really want it!
comments powered by

Disqus
x
Email Post
You can email the Post below to a friend. Simply fill in the form and click send.
Post name: