FASHION fox
is a British fashion blog run by women's fashion insiders based in London.
With hot fashion tips, styling, fashion and beauty advice Fashion Fox takes you on an adventure in fashion.
Rising star of the fashion world, the queen of print design Katie Eary launches her collaboration with River Island with a superb capsule collection of women's wear, swimwear and accessories. This collection is so good Katie is officially Fashion Fox of the Week! Inspired by Terry Gilliam's film adaptation of Hunter S Thompson's book "Fear and Loathing in Last Vegas" this collection brings passion, sexiness and the odd passing snake into one glorious explosion of maverick sexiness. Katie took time out from her busy schedule to answer three little questions.
Its not often I look at a handbag and get the horn, but when I saw Katie sashaying towards the hotel lift with her bag, I felt something inside begin to smoulder, dare I say ignited. So why was I in a hotel with Katie Eary you ask? It's one of those six degrees of separation thing, the common denominator is my friend Helen, one of the most inspiring sexy women I know and like attracts like, we met over a heady cocktail of mixed spirits, Cadbury's Creme eggs and various other sugary delights you can tell a person by the company they keep and like my friend Helen, Katie is sexy, funny, brilliant and likes a beer with her curry.
To celebrate her collection's launch a short film has been (see trailer above) created and directed by Film Director, Kinga Burza at the Fash/on Film event at London Fashion Week on 14th February 2013. The short 3 minute film stars model, Eniko Mihalik and through Katie's association with close friend, Kanye West, his song 'Blood on the Leaves' taken from his recent album, Yeezus, is the soundtrack to the film.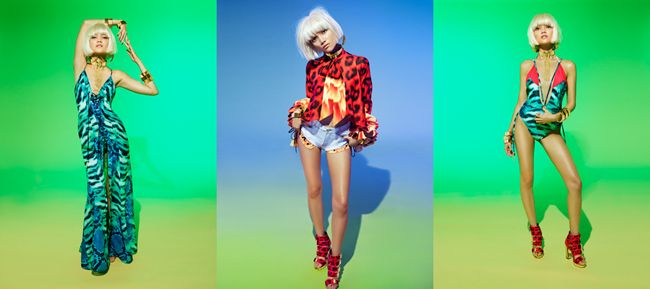 Generally I don't feel that lustful about handbags, I'm not one of those sorts of girls, but Katie's bag? In red pony skin and long gogo dancer fringing?...well the word is "grrr". So maybe it was the afternoon wine and cognac at a business lunch earlier, that had loosened me up, and the giddiness of hanging out with my friend Helen and her mates made me lust after another woman's bag, but it was lust and I wanted to part with good English pounds for it, then and there, but I've had to wait...so maybe its now love? And now I have to admit I'm feeling highly inappropriate thoughts about her clothes too, but after the dark soddenness of this winter, isn't it time we had some fire in our loins and wear clothes that fire up our lust for life?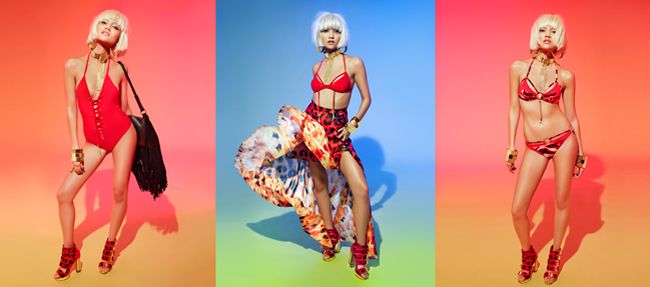 1. What is the essence that you've taken from the book and interpreted with the print designs?
I guess the energy? The fast paced lucidness of the book is great… There is a big when they get to Las Vegas and walked into the foyer to see loads of lizards dripping in Jewels and lipstick, wearing dresses, SO straight away i went to town with animal prints, merging snake with tiger, leopard with fire.
2. t's a manly book and you're best known for your menswear but these clothes are all woman: what has changed for you in terms of how you were thinking about silhouette design for this collection?
Im interested to know why you think its a manly book? The only 'manly' thing about it is that the characters are men. My starting point was to make it my musing on the desert on this little hallucinatory trip, i wanted it to del quite 70's, but with a modern twist.
3. Fashion has been very "sweet" for quite a while, but you're clothes are full on sexy and womanly, what is the Katie Eary philosophy in terms of design, styling and attitude that makes a woman sexy and powerful?
Im not interested in dressing like a little girl, I never have… I don't have a philosophy per say, My taste has always been quite full on and sexy. Thats just my style.
Katie's collection is on sale from today at River Island, time to start the fire!
comments powered by

Disqus
x
Email Post
You can email the Post below to a friend. Simply fill in the form and click send.
Post name: