FASHION fox
is a British fashion blog run by women's fashion insiders based in London.
With hot fashion tips, styling, fashion and beauty advice Fashion Fox takes you on an adventure in fashion.
Day 2 at Fashion Scout was beleaguered by rain and queuing. Each Year Fashion Scout seems to get busier and busier as it has become a mixture of designers who are set to make the leap to the next level and unknown designers who tempt the press and buyers with the promise that previous seasons have shown. With inventive presentations by rising starts such as Liz Black and the event now over flowing" Fashion Scout Shows are now overflowing into other venues including Sorapol who divided audiences between rave reviews and those with an aversion to glitter showing>at The Royal College of Surgeons . Fashion Fox's team of writers Lisa McKendrick, Jas Kaur, Rakelle Maurici, Jodi Gray, Gemma Winter and Shammara Lawrence and backstage correspondents bring you the highlights of today's show.>
Liz Black
"Fashion meets Paranoia" (see above) was a presentation saw some stylish nude coloured dresses which fall below the knee and still look hot in booted high heels with an open front. The two toned minimal look in this collection is both playful and quietly seductive. For the lady who likes to play it cool and be daring at the same time. Also one to look out for are the black dresses with streaks of turquoise. A collection which give a feel of class and style without needing to go slutty - definitely art school chic.
Charlie May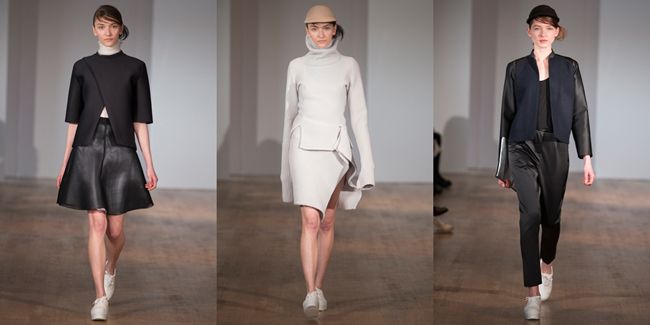 The whole range was a palette of blacks muted tones creating wearable and chic. The collection had a sporty feel about it, without a 'try to hard' vibe. The textures consisted of pony hair dresses, fur trims, leather and mohair jumpers; but played down in blacks, creams pale greys and navy. May's signature item were white platform tread trainers and felt hats. (RM)
Hema Kaul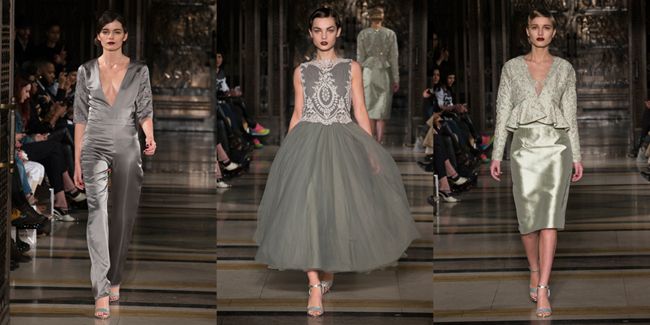 A collection fit for evening balls and black tie affairs, Hema Kaul presented her Autumn/Winter 2014 evening wear collection this London Fashion Week to a packed room filled with fashion enthusiasts alike. As the lights dimmed, and the models began to make their way down the runway, it became apparent that sequin embellishments, silk and velvet were fixtures throughout Kaul's collection. Evoking the image of elegant woman, the models bore simplistic makeup and a slick bun. Drawing attention to defined waist seems through the use of peplums and silk belts, Kaul placed a strong emphasis on evening wear tailored the wearer's body. (LM)
Yifang Wan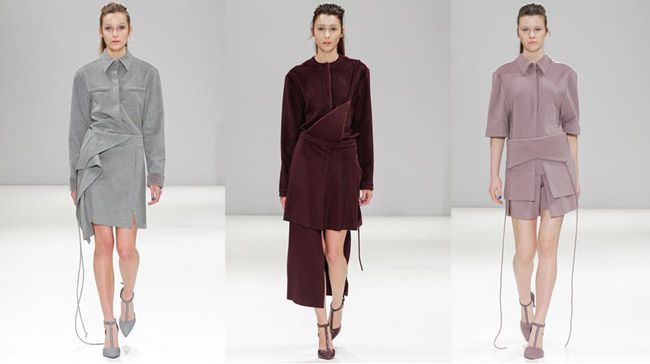 A young talent in the industry, Yifang Wan presented her ready-to-wear Autumn Winter 2014 collection this London Fashion Week with a plethora of timeless silhouettes. Sticking to the suspected colour palette for Fall: burgundy, gray, black and other neutral tones made their way down the runway with structured coats inspired by masculine forms. Showcasing the interchangeability of the garments from workwear to glam evening dress, Wan included eyewear amongst most of the models treading down the runway. Additionally, the inclusion of pockets on the coats and loose fitting dresses in the collection, promoted the idea of the everyday working women whose sartorial choices may be of a different nature than expected. (SL(
Zeynep Kartal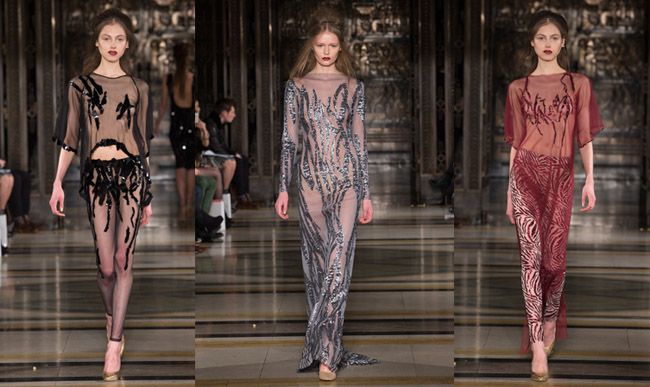 Sexy mesh see through dresses were the main focus of this collection but if you don't want to go semi-nude wear a body suit underneath? There were some outstanding animal designs on velvet and sparkly sequins with intricate lace detail. The fabrics were autumn colours of ivory, teal, rich burgundy, black and metallic gold and pewter. Evening dresses that are beautiful, sexy and actually looked as though they are also comfortable. Definitely a collection reflecting Hollywood glamour, think of Rita Hayworth from Gilda as a sultry Femme Fatale an inspiration for these dresses. Also included are jackets, playsuits and two piece suits. A collection for the fancy lady with a hint of seduction. (JK)


Ashley Isham
Ashley Isham is clearly a favourite with those looking for something different which stands out in the crowd. Lavishly extravagant pieces in a broad palette of of colours from deep tuquoise and burned oranges, to more muted soft greys and deep reds. layers of texture from rich silk sateens to airy chiffons. Ishams floral prints and classic patterns evoke Parisen Belle Epoque interiors and Chinoiserie. Decorative dresses with long flowing fabrics and detailed embroidery. Hats with a veil which will appeal to anybody who wants to go out incognito or maybe with a hangover! Like many designers this season Isham is not afraid to mix up fabrics in his collection, silk blouses trimmed with leather, teamed with transparent printed trousers. The excellent design and styling, with billowing trains of silk as the models thundered down the runway created drama and energy that reminds you of what a great catwalk show can be. This collection sets the wearer apart with bold, risk taking flare. (LM)
Sorapol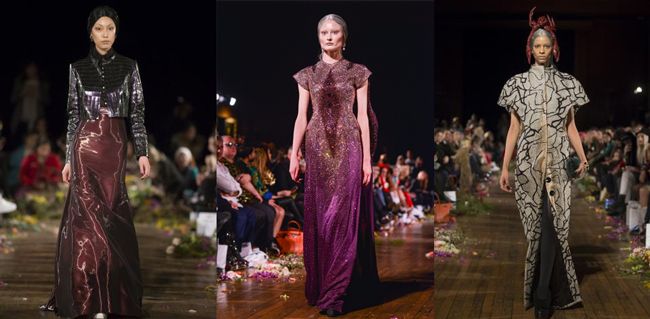 Before you head half naked to Burger & Lobster, poised to purchase one of their highly commended crustacean's to wear on your head, remember that team Sorapol thrives in their expression of art married with fashion- On.The. Catwalk. Sorapol is a designer who divides the fashion crowd, but judging by the crowds outside the Royal College of Surgeons which hosted the event. Each season the anticipation increases, and the build up to the disclosing moments of designer Sorapol Chawaphatnakul and artist Daniel Lismore this Fashion Week was no different. Guests were first given taste of what was to come in the form of a short film, which spilled over into a decidedly dark but strong collection down the runway. Snake-skin metallics, rich plum accents and completely sheer piece actually sewn to a models' skin, stole the show! (JG)
comments powered by

Disqus
x
Email Post
You can email the Post below to a friend. Simply fill in the form and click send.
Post name: