FASHION fox
is a British fashion blog run by women's fashion insiders based in London.
With hot fashion tips, styling, fashion and beauty advice Fashion Fox takes you on an adventure in fashion.
Yulia Kondranina
It is refreshing to see a young designer focusing on knitwear which is often the forgotten Cinderella figure of fashion even though it is the one of thee higher grossing sectors her Textured zig zag knits. Yulia Kondranina who won the Merit Award Last season at Fashion Scout is certainly a designer for buyers to keep a beady eye on.;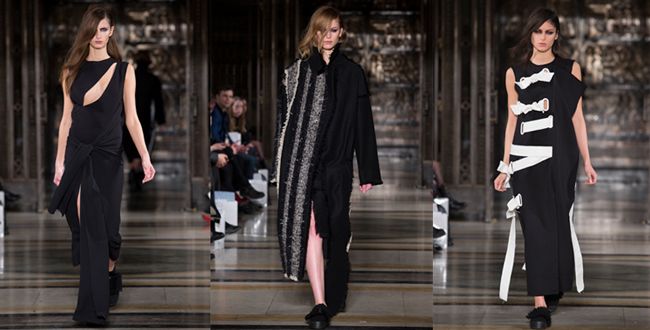 Black featured heavily but as the knits rolled down the cat walk stripes of jade, royal blue and red appeared with pops of fluorescent pink. The first knit that had an almost woven herringbone appearance in the dusty French navy that is emerging as a subtle Aw14 colour herring-boned with black.
Her clothes had a slouchy feel embedded with a lazy eroticism that few designers achieve in knitwear. Both her knits and her sewn pieces are constructed so that seams appeared to be parting to reveal flesh, or to fall off the shoulders, to hang in louche, in a style of deliberate deshabille her coats contrasted black worsteds with almost crunchy tweeds. Slinky black jersey dresses with come touch me peeps of skin reminiscent of Tom Ford at Gucci but she takes it into a darker zone with overtones of industrial, dystopian chic that has pervaded a number of collections (EV-Editor).
Apu Jan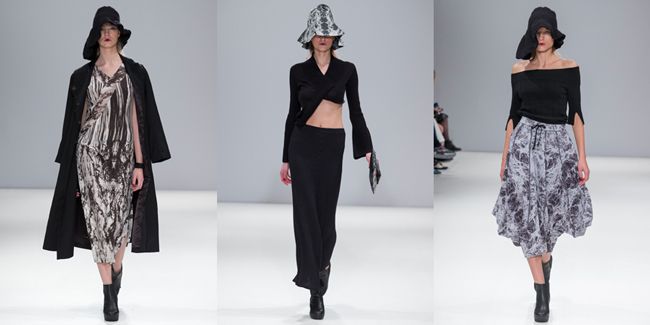 Autumn/winter is classically the time when the skies darken, there's a bite in the air and we turn our collars up before we head for home. Apu Jan's offering reflected a melancholic air, evident in the subdued palette of black, grey and white with the occasional intrusion of a dark blue and gold rippling print. Signature floppy brimmed hats (seen last season) and long, slouchy silhouettes called to mind an almost witchy mood, whilst cobweb prints on buttoned-up blouses reinforced the feeling of being transported to the depth of a Charles Dickens novel.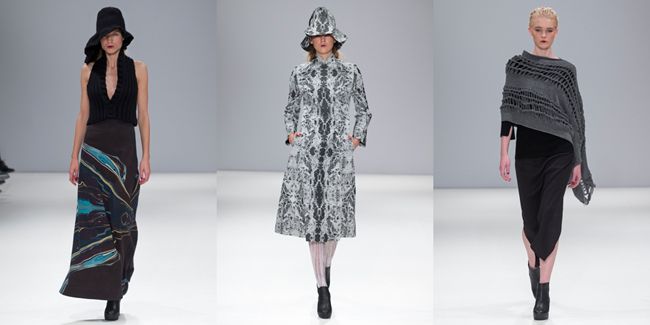 Chunkey, sometimes distressed knitted cowls, capes and hobble skirts dragged you down old East End Alley Ways of Ripper Street, with swagger and style. Not all was demure, though. Slashes at the midriff and asymmetrical hems added interest and a more modern feel to the collection. All in all, gloomy never looked this good. (AL-Fashion Editor).
comments powered by

Disqus
x
Email Post
You can email the Post below to a friend. Simply fill in the form and click send.
Post name: