FASHION fox
is a British fashion blog run by women's fashion insiders based in London.
With hot fashion tips, styling, fashion and beauty advice Fashion Fox takes you on an adventure in fashion.
Arts and fashion writer Lorna Carvill interviews artist and curator Mike Chavez-Dawson who enjoys crossing the borders between everyday life and the surreal. In the past he has had a rock band, made work based on weather reports, worked as a(sur)real estate agent and created daily astrology posts for artists it was only a matter of time before he strayed into the world of fashion and jewellery. "I am fascinated by the theoretical limits of the mind. What starts out as yearning soon becomes manipulated into a carnival of fantasy, leaving a sense of unreality combined with the prospect of a new understanding.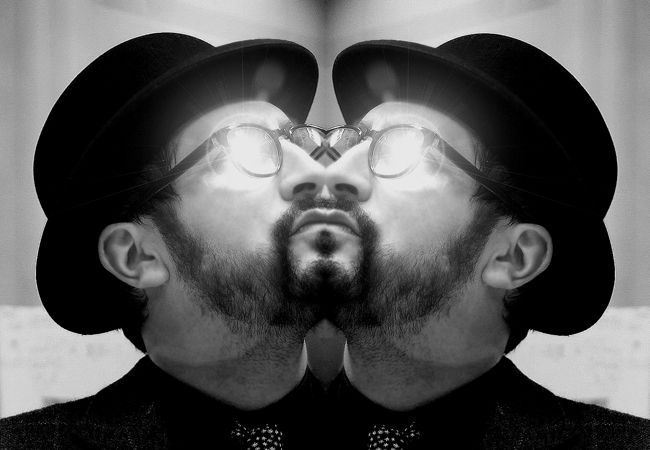 Portrait of the artist
After interviewing Mike Chavez-Dawson, an artist and curator, I was fascinated by just this; his theoretical mind and the way he transforms ideas through practice. He has challenged conventional views of representation and his work mystifies and defies any single interpretation. Indeed, working within the realms of performance and curatorial art has allowed him to unconventionally express a slightly eccentric tone of voice and style which defiantly depicts his work. As Chavez-Dawson states, "methods and objects produced are a form of mediation that's dependent upon the concept just as the concept is dependent upon the object of mediation".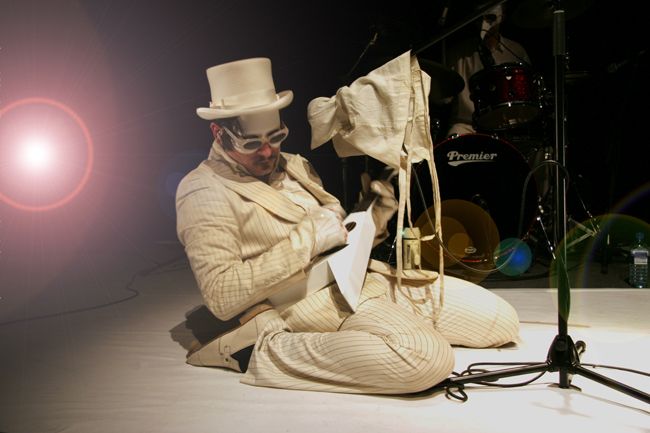 His alter-ego, rock god Robin Nature-Bold lead Bandism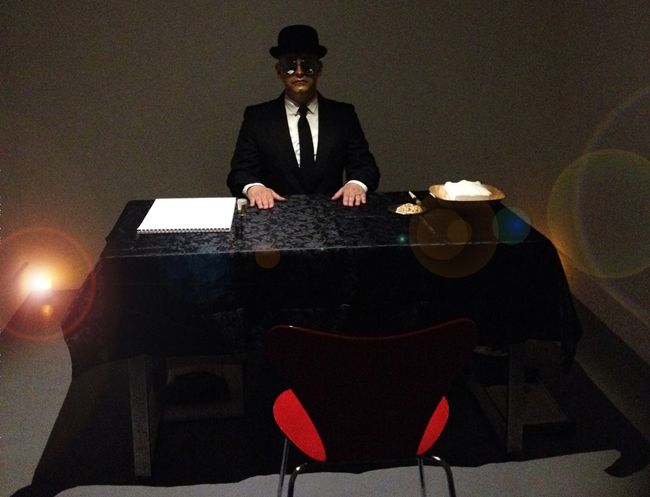 In Your Hands: Performance art work 2013
Recently awarded his PhD in Art by practice from Manchester Metropolitan University,Mike Chavez-Dawson has continuously in been commissioned for a number of shows and developed a number of live projects both nationally and internationally including 'In Your Hands' (2013) which was a performance by the artist as a psychic-palm reader giving readings, utilised various alter-egos as living portraits such as 'Surreal Agent' in which the artist poses as an estate agent to gallery viewers, and 'This May Not Be Relevant Tomorrow!'.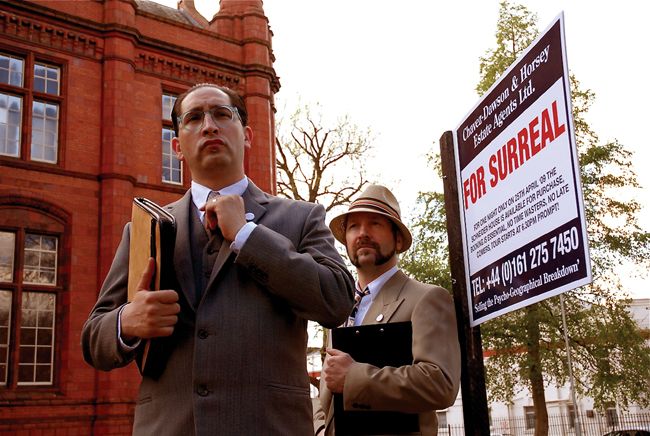 The artist defines this as his first step into multi-part installations and states that it was "a cryptic installation that included a kitchen sink, a bucket, UV lighting, laminated pictures of me bathing, bleach, vacuum-packed clothes and a series of neurotically handwritten extracts from Joseph Kosuth's 'Art After Philosophy And After". Kosuth's idea that art is a continuation of philosophy is one which has influenced the thinking of Chavez-Dawson in addition to referring to the YBA (Young British Artists) conceptual tendencies throughout various projects. Chavez-Dawson also curated the David Shrigley exhibition 'How Are You Feeling?' which was nominated for the Turner Prize (2013) see below.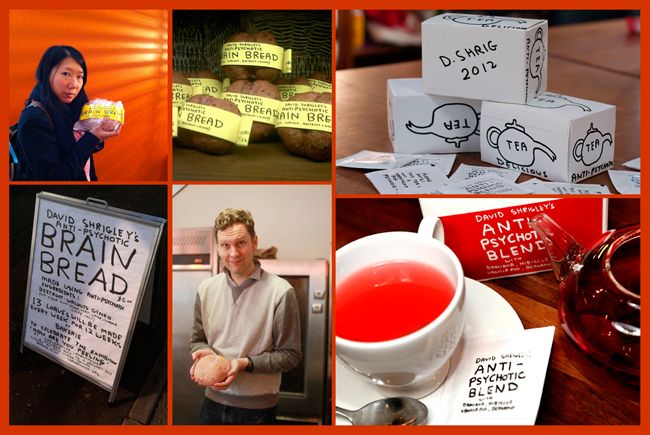 To quote Chavez-Dawson, "It is the continual habit of cross-referencing seemingly opposing disciplines, narrative structures and interpretative motifs that invigorates both my works and my methods." This process frequently lends itself to the question of where his artwork begins and where it ends. It brings me back to my initial thought that the artist is flirting with new ideals of representation, which was perhaps partly developed whilst studying under Lama Jampa Thaye when the artist "noted a significant paradigm shift in his psyche". There are stories of ambiguity woven into his work which are particularly apparent in 'Beyond the Medium (A Rakes Dream)'. This project will see Chavez-Dawson and other artists collaborate with the spirit of William Hogarth to create a series of eight projects across eight regions to exemplify a contemporary rendition of 'A Rake's Progress...'. This project is current and will develop over the next three years. A trailer is currently in production with a full-length documentary also planned for production.
More recently, Chavez-Dawson has been drawn to Marcel Duchamp for inspiration. Duchamp was an almighty giant of contemporary art, revolutionising the connection between thought process and art. Initially his works were aligned with Post-Impressionist styles, however very soon he became fascinated with transition and change and began rejecting retinal art in favour of 'anti-art' forms. Although Duchamp was not actively participating in Dada groups, many of his friends were doing so which led to the sharing of thought processes. His later works would become responsible for significant developments in painting and sculpture thereafter.
Duchamp's most revered artwork was undoubtedly the 'Fountain'(1917), also known as the Urinal, and which was submitted to the Society of Independent Artists and rejected on the grounds that it was not art. This caused uproar amongst Dadaists and led Duchamp to resign from the board of Independent Artists.
Duchamp's intent was to shift the focus from a craft form to intellectual representation, and it seems the 'Fountain' inspired ring by Chavez-Dawson has shifted this idea back to a craft form. The appeal of this arose from the artist wanting to reclaim the original objects design and craft dynamic, however as the artist states, "the quandary of it's functionality as a piece of jewellery is still in jeopardy".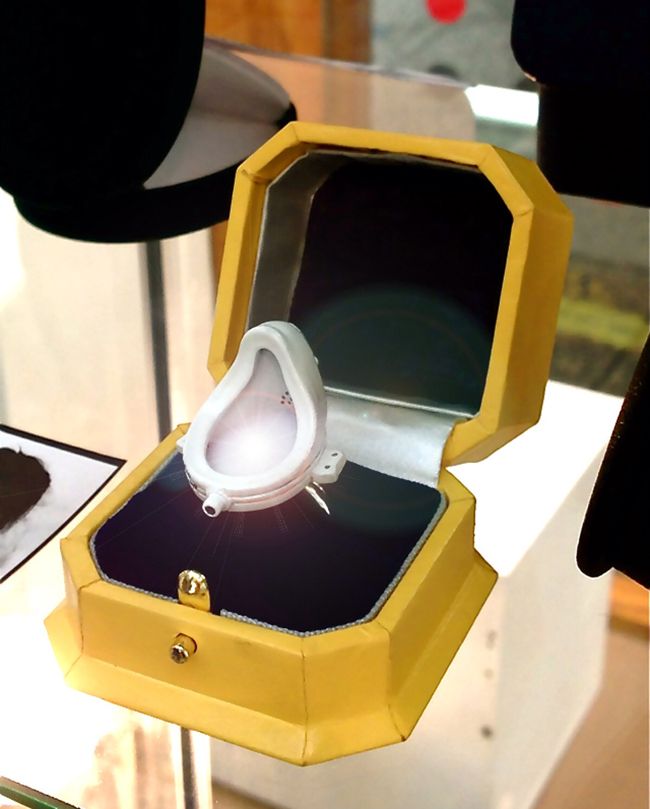 (1917) Chavez-Dawson, 'Duchamp's Ring',(2013) The first piece in the Duchamp series by Chavez-Dawson is the 'Fountain Ring', as seen above. 'The Fountain' was chosen because he felt there is "something poetic making a beautiful piece of art which was originally rejected for a show about rejection". Artwork doesn't age in the respect that the questions it poses and problems it encourages still exist, and the viewers interpretation of art continues to evolve in relation to social and political matters of their time.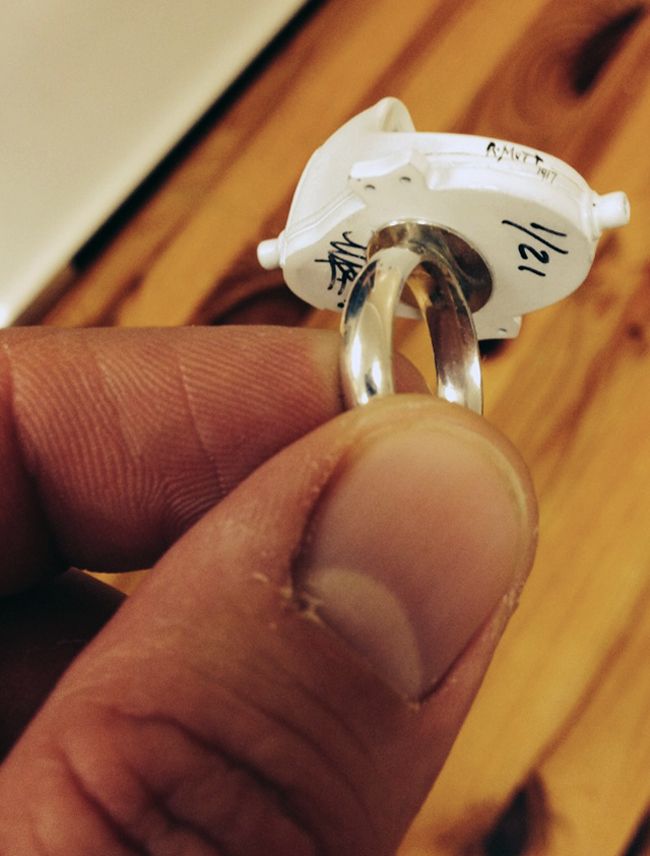 There is more to come in the Duchamp series. The 'Bicycle Wheel on a Stool' will be developed into earrings, and Breaking the 'Large Glass' will be converted into a range of garments.
Sir Anish Kapoor, "one of the last great sculptors with exceptional vision and depth" noted by Chavez-Dawson, is a fan, and has purchased one of these limited edition pieces of wearable art. About Sir Kapoor, Chavez-Dawson states that "our methods are significantly different, there is this attempt to make the audience complicit in the work, so attention to space and time as part of the works produced is implicit to us both although the outcomes are different."
Perhaps this parallel in their work is what attracted Sir Kapoor to this ring. Or perhaps it is the fact it is just pretty damn cool.
Chavez-Dawson aims to create dialogue in any project and is one of the "main concerns" of his practice, which I trust can be understood from the examples made throughout this article of his work. Duchamp's ring creates this dialogue on a significantly more personal level with each viewer. It allows the user to interact physically with the art, although rather than alter the way in which a viewer might navigate and flow through spaces, this deals with how the user interprets the object on a more personal level ' "it's a propositional dynamic". It questions the viewer's meaning and interpretation of the art, and in what context it applies, and will equate to a different experience from each person who wears the art.
"The creative act is not performed by the artist alone; the spectator brings the work in contact with the external world by deciphering and interpreting it's inner qualifications and thus adds his contribution to the creative act" (Duchamp, 1958)
007 producer says that smart people invest in art so should you wish to invest your hard earned cash in a piece of art that is also jewellery aka 'Duchamp's Ring' contact the artist at his website:www.mikechavezdawson.com
Mike is currently developing his Duchamp cufflinks which are already causing a stir in the art world.
comments powered by

Disqus
x
Email Post
You can email the Post below to a friend. Simply fill in the form and click send.
Post name: