FASHION fox
is a British fashion blog run by women's fashion insiders based in London.
With hot fashion tips, styling, fashion and beauty advice Fashion Fox takes you on an adventure in fashion.
The votes are in, the scores have been tallied and Indian designer, Rahul Mishra, has been awarded the International Woolmark Prize for 2013/2014. The competition started in 1954 as a way to both honour designer's use and manipulation of wool , and to highlight wool's versatility to a global audience.
Mishra joins previous winners Karl Lagerfeld and Yves Saint Laurent, who since winning in 1956 have gone on to be elevated to icon status, through their lifelong contributions to the fashion industry. Along with the prestige of winning, the prize also includes a financial injection of $100,000 AU and collections sold in some of the world's most desirable boutiques, including Colette in Paris, Saks Fifth Avenue in New York and Harvey Nichols in Britain; something that any young designer would sell a vital organ to achieve.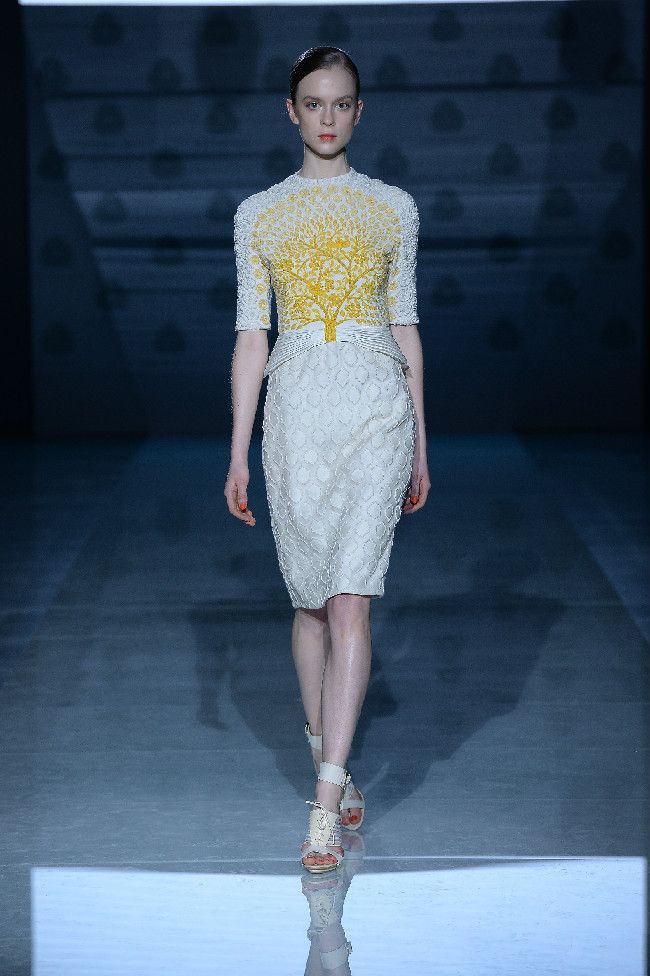 Rahul Mishra's embroidery detail blew the judges away
So who is Rahul Mishra? A quick search revealed that even in his short career, Mishra isn't a stranger to accolades. An alumni of the National Institute of Design in India, Mishra became the first non-European designer to win a scholarship to the Insituto Marangoni in Milan and in 2009 was named International Designer of the Year by the International Apparel Federation (IAF). From there he went on to win the 'Best womans wear designer', awarded by the Cotton Council International and was name-checked on the' Power List of 25 most influencing Indians' by Elle Magazine. When he wasn't winning awards, Mishra worked within the craft sector in India on various initiatives to uplift weavers and has exhibited his own designs internationally.
Sibling signature bright colours and quintessentially British attitude
That's not to say he wasn't up against some rather stiff competition.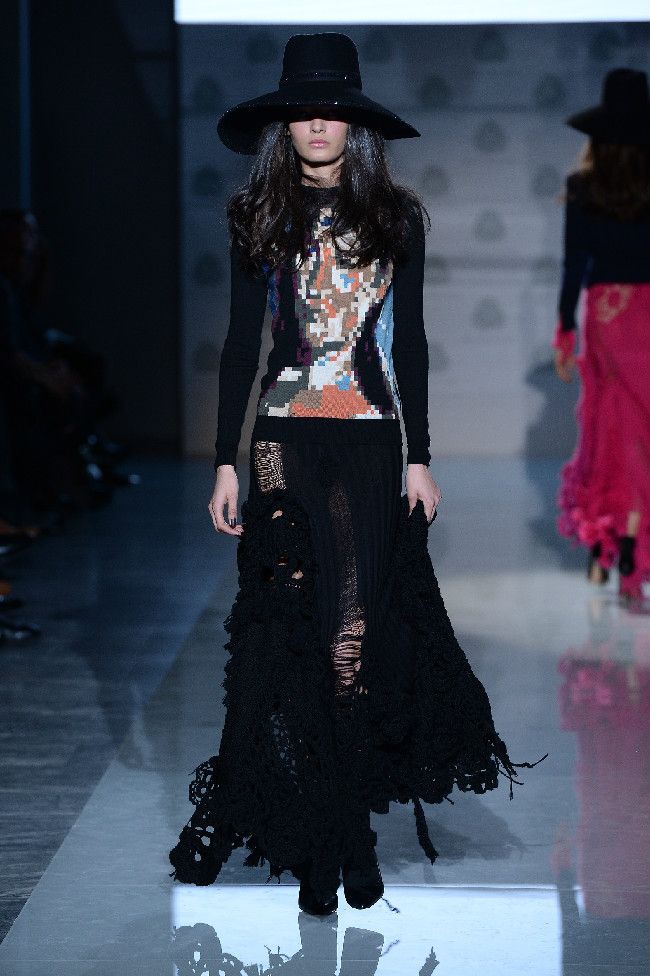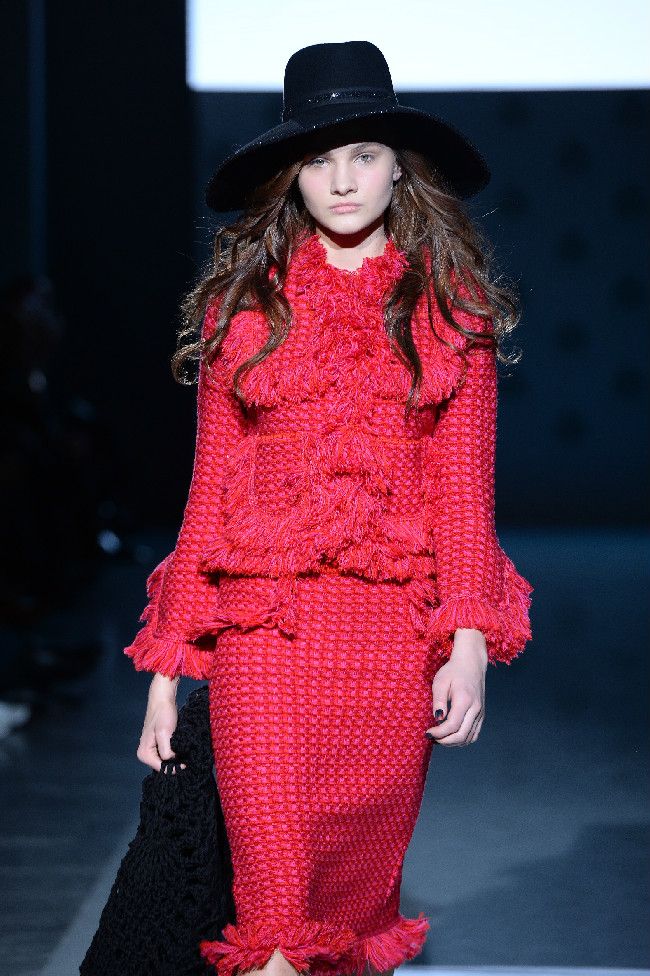 The European candidate, Sibling (see images above: a collaboration between designers Joe Bates, Sid Bryan and Cozette McCreery) have carved a reputation for making beautiful knitwear, with an all-important element of fun. The trio have challenged traditional methods and incorporated wool in innovative and modern ways, without sacrificing craftsmanship or quality. Their quintessentially British sense of humour pervades every collection and for their western-style presentation, they showcased their signature bright colours alongside wide-brimmed fedoras and spider-web weaves.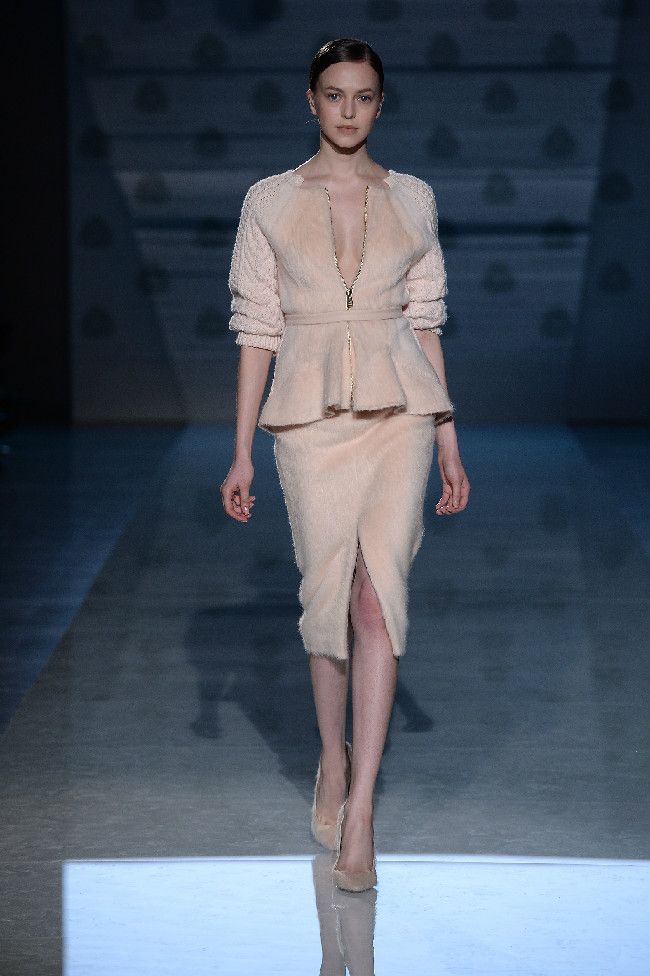 American designer Joseph Altuzarra (a favourite amongst NYC's elite)stayed true to his fiercely feminine signature and simple shapes and presented an elegant, subdued collection that was instantly wearable, but with a sexy edge. The designer's ethos has always been about empowering women and appealing to their modernity and the clothing designed to accentuate the figure and provide just a hint of flesh certainly would not look out of place in any woman's wardrobe, regardless of age.
simple classic elegance with a twist from Christopher Eber
However, it was Mishra's delicate manipulation of wool and embroidery that pipped the other finalists to the post and secured the win. Frida Giannini, Creative Director of Gucci and one of the judges of the Woolmark prize said 'For me, Rahul has won because of his ability to apply his knowledge of embroideries through wool, one of the most versatile fibres with originality in an unexpected way'.
Fellow judge Alexa Chung agreed saying ' His interpretation is so delicate and beautiful. I was really moved by Rahul's story. I believe he is well deserving of this award.'
Winning the Woolmark prize is an incredible achievement, and if his predecessors are anything to go by, Rahul Mishra is well on his way to securing the type of career that goes down in fashion history.
comments powered by

Disqus
x
Email Post
You can email the Post below to a friend. Simply fill in the form and click send.
Post name: