FASHION fox
is a British fashion blog run by women's fashion insiders based in London.
With hot fashion tips, styling, fashion and beauty advice Fashion Fox takes you on an adventure in fashion.
Ugg Australia has emerged at a modern classic brand, but that doesn't stop them getting creative. Their latest collaboration has been with five very creative people. Ugg have joined forces with Chloe Norgaad (featured picture), DJ Bip Ling, Natalie Hartley, Suki Waterhouse and hot menswear design duo Agi and Sam to form this spring's Creative Council to shed a new light on some of their best selling styles that have become part of so many people's shoe collections.
They say if ain't broke don't fix it, but a little update on a classic gives a girl some options for Spring. Natalie Hartley who works on trends talks about how classic style is about easy fashion and gives her ideas about how to wear Ugg Classics with this season's trends. Natalie gives a range of ideas of how to wear different styles from the classic short to newer styles such as The Office Caya woven, to inspire your shopping this spring.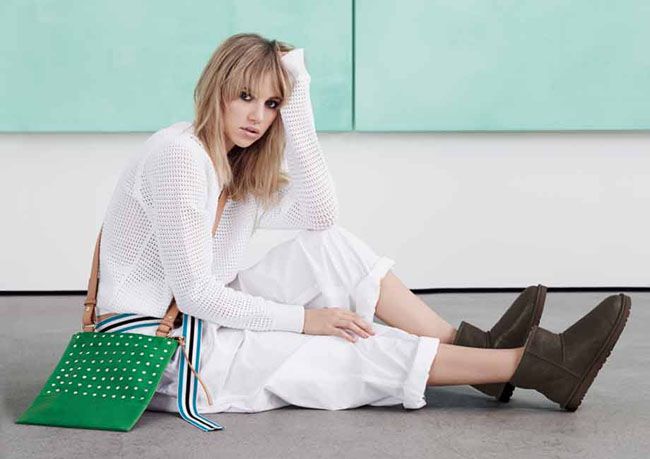 Suki Waterhouse (pictured above and in the featured video), talks about her love of modelling and acting whilst Blogger and DJ Bip Ling who knows a thing or two about shoes having worked on other shoe brand collaborations, talks about her work with Ugg. Last autumn she played hostess during Vogue's Fashion Night out in Manchester in the Ugg Australia store, playing floor fillers, literally, the shop was rammed with happy Manc fashion lovers. She talks about how being flexible is important to her: "My favourite part of being Bip Ling is doing whatever I want to do," she says. "I can do modelling, art, writing a song. Every day is different."
Bip Ling sports one of this season's key accent colours red on her feet.
Agi & Sam (see below)give a man's spin on teaming Ugg shoes and boots with menswear and tailoring, which although they are talking about menswear, their video is worth taking notes from as the mannish trend is going to continue right through spring/summer into autumn and winter this year along with flat and dare I say it comfortable shoes, giving us a rest from teetering around trying to look oh so lady like. With Prairie chic, boiler suits, loose fit jeans, its time to stop feeling shy about being comfortable and just embrace it and own it.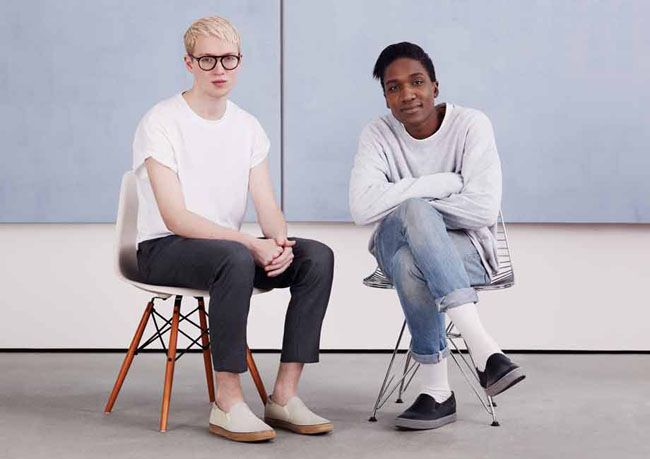 Like Marmite Ugg may divide people but also like Marmite it's a brand that is here to stay to be reinvented and enjoyed over and over again and mixed up with whatever fashion might throw at us.
Also check out their instagram competition to win a classic escape holiday.
comments powered by

Disqus
x
Email Post
You can email the Post below to a friend. Simply fill in the form and click send.
Post name: