FASHION fox
is a British fashion blog run by women's fashion insiders based in London.
With hot fashion tips, styling, fashion and beauty advice Fashion Fox takes you on an adventure in fashion.
Blue jeans are back, and yes they really did go away, the likes of Jeremy Clarkson and Simon Cowell gave us nightmares that chased away any desire for denim. Lee jeans, are celebrating their 125th anniversary this year. They're riding this fashion moment with a new collection that brings blue denim up to date with their "Move your Lee" campaign flash mobs of break dance crew erupting on a street near you.
Last Saturday Covent Garden was invaded by denim clad Merrymakers, busting some serious moves inviting shoppers to give denim a chance. We've clung to our black skinnies and carrot tops for quite a while, blue has been out in the cold but with the new boyfriend fit jeans once more it's back in our collective fashion consciousness.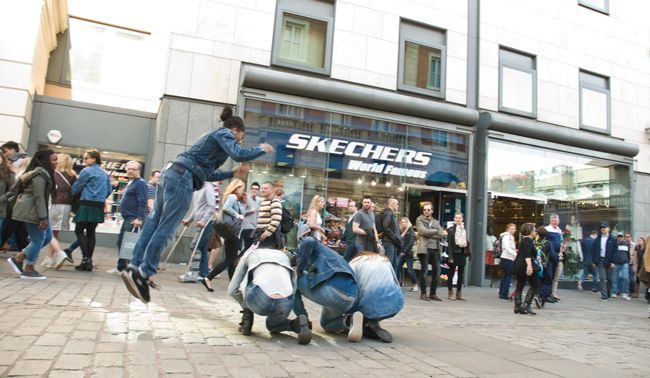 Lee jeans began back in 1889 as a work wear manufacturer making not jeans but dungarees. In 1917 they made the first denim jumpsuit, the worlds first overall. I'm hoping that they will repeat this classic this year, having seen their apron I just know it would be good. Rather than repeating the classics Lee's new collection experiments with different dyes, including ombré dying and super pale bleached denim. The cuts are close to the body in super soft multi way stretch denim, to allow even the most impossible dance moves. Shorts are very fitted, some using different dyes of denim in panels, this is where close to the body tailoring with the original work wear edge that made Lee cool.
Lee launched its casual wear in the heady first days of rock and roll. People copied their style icons. When Elvis wore jeans he was adopting the style of not only his working class roots but the hip street style that teenagers were adopting. The young were rejecting the buttoned down formal style of dressing that their parents wore in favour of work wear. When women wore jeans for fun it was a huge statement. Back in the 1950/60s a woman wearing trousers was still considered a cross dresser. If she wore jeans she was saying something really strong. Even now we call the loose fit jean, a "boyfriend fit jean" saying that women are still having to steal things for the men... Like equal pay and the right not to be molested in the work place, y'know trivial stuff like that. I often make little bets with myself when I go to trend forecasting seminars, because the blue denim trend had been on the cards for some time, I wondered when we shall finally break out of black? How soon is now.?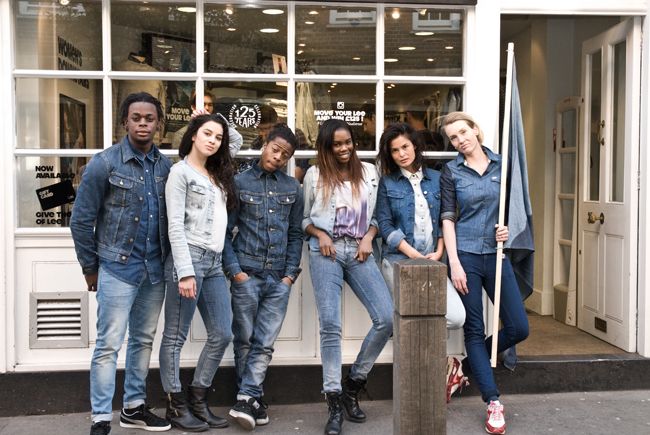 The Lee dance crew had some spectacular dancers and managed to select female dancers with real personality and sass in their ass. It was refreshing to see clothes modeled this way after fashion weeks where we suspected many underfed and underage models were walking.
Look out for more of the Lee street happenings all over the UK and Europe
comments powered by

Disqus
x
Email Post
You can email the Post below to a friend. Simply fill in the form and click send.
Post name: